Sony demos prototype VR system called Project Morpheus.  
By Kathleen Maher
You didn't ask for it, you didn't know you wanted it, but the game developing world thinks you might be ready for another round of virtual reality (VR) products. The breakthrough is made possible by the proliferation of low-cost sensors and small screens enabled by the smart phone explosion; it is getting easier to source parts for lighter and smaller headsets. The Oculus Rift has been sucking up much of the oxygen around VR for the past year, but at the Game Developers Conference (GDC) this week Sony entered the fray with its Project Morpheus, a skunk works project led by Shuhei Yoshida, president of Sony's Worldwide Studio and Richard Marks, Sony R&D engineer.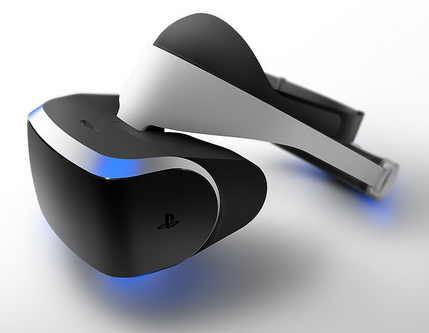 At a special event before GDC Sony gave press and analysts a look at the progress it's made on VR. Sony has been working on headsets and VR since 2010; they are selling headsets for private TV and movie viewing for about $1000, but Morpheus is a Playstation peripheral designed to be immersive. The company says it has struggled to get to 90% field of view, which they deemed was enough to create compelling demos and show the world the effect of immersion. Sony staff members were careful to say they're not making an announcement and they're not promising a product. The aptly named Project Morpheus is an exploration by Sony to investigate the potential for virtual reality on the PlayStation platform.
In addition to the headset, Project Morpheus uses the PlayStation Camera to register head position. The head mount has racy blue LED lights which the camera uses for positioning. The apparatus includes a gyroscope and accelerometer sensors. Sony also takes advantage of Sony's new 3D audio to create 3D sounds in all directions, which can change with head orientation. Morpheus can also work with Sony's PlayStation Move motion controller.
Yoshida says, "I have long dreamed about VR and the possibilities it brings." He believes the technology has the potential to fundamentally change gaming. Yoshida says the company is reaching out to developers to encourage the development of games on the platform. Richard Marks says he's not really sure how virtual reality will evolve in the game industry but he believes the presence of both Sony and Oculus in the market will help build momentum for the technology.
The PlayStation 4 has been a successful launch for Sony at a time when the company really needs success. Sony says sales have been on a tear lately, and have recently surpassed 6 million units. Just as significant, the company is seeing broad acceptance for applications beyond games. Marks says he suspects the early applications for the Morpheus headset will be in non-game settings including scientific research and home applications.
Sony included two different demos to demonstrate their VR system. One, The Deep, is a game; the player is in a shark cage around which swims a big mean shark. For the second demo Sony teamed with NASA to create a visit to a Mars landscape, using data gathered from NASA explorations.
Among the keys to public acceptance will be resolution and frame rate. Sony is using HD imagery—a full 1920 x 1080. So to create a real time video with no lag, Sony splits the width in half and maintains the full 1080. The resolution is good – not great, but much better than what we've been seeing. The lack of latency is a more critical capability to keep people engaged with the content. A visit to the shark cage was fun. The shark bangs on the cage, tears at it—there's a visceral desire to step back. The Mars demo is very beautiful with sharp 3D rocks. There are also demos for games including The Castle, CCP's Eve Valkyrie, and Eidos Thief.
Sony says they will deliver ease of use, claiming use will be as simple as plugging a peripheral into the PlayStation 4.
Marks says the real value of virtual reality is to give the visitor a feeling of presence, of actually being in a place. They've concentrated on content set in exotic locations. But as Sony has noted with this latest console launch, the PlayStation 4 is attracting a wide audience that includes non-gamers as well. In fact, Sony is not really sure where the real use case for Project Morpheus will be. It is a compelling game environment for games, but it also seems it could be an amazing tool for travel applications, real estate, interior design and maybe even wandering around in molecules and big data.
Marks says not only is Sony looking for developers, they're looking for the most experimental of designers. "That's why we're here at GDC," he says, adding how it is an exciting time to be in the game business. He says he sees game development taking new directions so it's a perfect time to see what people can do with Sony's VR platform. It's not totally obvious, but Marks believes that there could be a strong social aspect to Sony's VR. People could explore places together and inhabit virtual spaces together. A social element could overcome a big drawback of immersion for some people because it can be such an isolating experience.
What do we think?
The Project Morpheus headset is better than what we've seen so far, with no apparent lag and better resolution but the novelty does tend to wear off. Gamers have been lukewarm to stereo 3D, so it's not clear that they'd go for immersive displays. Still, Virtual Reality is captures people's imaginations. It'd be foolish to write off the efforts of bright people who have a passion for the technology. However, I am open to take bets—at least until I see an application that makes me want a device like Project Morpheus.