ShoeCloud works within Delcam's Cripsin design environment, but can be used independently.
Delcam's Crispin division has launched project management and collaboration software for the footwear industry. New ShoeCloud is built to enable more efficient management of design and manufacturing data throughout the development of new shoe designs, either within a single company or along a supply chain.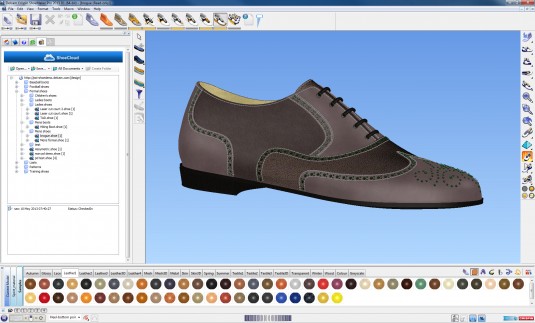 Delcam says ShoeCloud can be integrated within the existing Crispin range of software for 3D footwear design and manufacture. Alternatively, for staff not directly involved in design and manufacturing, such as management or marketing departments, ShoeCloud data can be accessed though standard Web browsers and email.  
Delcam expects ShoeCloud to be of most benefit for organizations that undertake design in North America or Europe and manufacturing in Asia. By enabling easier and faster exchange of data between the two regions, detailed project management will be possible with a significant reduction in the time and cost of international travel.
ShoeCloud can store all project data in a variety of formats, but Delcam says it works best with Crispin's internal format, which holds the information required for every aspect of design and manufacturing, from the generation of the initial design through to mass production. For staff that do not use any Crispin software, designs of complete shoes, or of components such as patterns and soles, can be viewed as .jpg images or 3D pdf files.
Each change to the overall design, or to a single element, is stored within ShoeCloud to give a revision history showing who has generated the data and when.  Revision authority can be allocated as required, with staff not authorised to make changes themselves able to record comments.  Designs are locked automatically when they are removed from the vault to prevent conflicts if more than one person tries to change the design simultaneously.
Once a project has been started within ShoeCloud, tasks can be assigned to one or more team members, who receive email notification with information on what they need to do and the deadline for their part of the project.  The whole team can see a full record of the project to date, together with the tasks that are scheduled for them and for the other team members.  Managers can track the progress of each project and the level of activity that is scheduled for each team member.
All workflow is recorded as the project progresses.  Thus, as ShoeCloud is used, a knowledge base is created with the full history of all projects undertaken to date.  For any project, details can be tracked of all communications, with a full record kept of all instructions given and information supplied, together with a history of who approved what and when.