Creative leaders in media can benefit from networking with peers and learning from invited speakers. 
For the third year in a row Siggraph is sponsoring a day-long business symposium, specifically for business and creative leaders in film, games, and broadcast to learn from each other in an off-the-record setting. The Siggraph Business Symposium is limited to 250 attendees, who will divide their day between small group discussions and sessions with world-class scientists and creatives. Previous attendees have included executives in the production and creative communities, investment bankers, lawyers, and various government representatives. The event will be at the Anaheim Convention Center Sunday, July 21.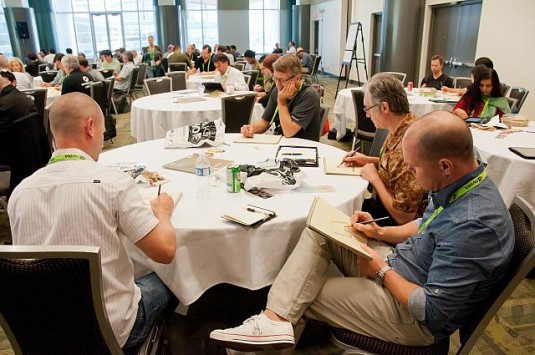 Evan Hirsch, credited with creating the user experience for Windows Surface, now works as Creative Director of consulting firm Engine Co. 4 and is this year's Symposium chair: "We have worked diligently to create an environment where our attendees and speakers can talk off-the-record, with no-holds barred to make incredibly rewarding connections and build a community of leadership within the industry."
To augment the conversation, the Symposium brings in creative leaders who can offer special perspectives. This year's invited guests include a US Navy SEAL captain, the general counsel at a leading game asset holding firm, a broadcast VP, technologists from leading studios, and others with insights of value to Symposium attendees. The large group sessions include:
Disruption in the Battlefield: Media creatives often use the language of war to describe productions, yet when things go wrong, the losses are only shots, sales, and money. Active duty US Navy SEAL Capt. Thomas Chaby will describe the reality of developing and training for situations where the work environment is dynamic and disrupting and the consequences can be deadly serious. Chaby will discuss how to lead successfully in fast-moving, hyper-dynamic conditions with limited predictability.
Innovating Business Methods: Studios may be releasing few tent poles and AAA games, but there are more platforms, venues, and formats for content than ever before. Three panelist will share how they connect with diverse audiences, monetize their products, and where the opportunities are today for both linear and interactive content.
Creative Deal Structuring for Growth and Survival: Cultural expectations can drive or derail projects involving outsourcing or targeted for global distribution. This session will provide insight into what US-based companies face in acquiring content and working with international content providers.
The Role of R&D in Production and Profit: Complex CG behaviors such as crowds, water, fire, and cloth have found their way into most software products. This panel explores the notion that to outsource innovation to software vendors and academia, you lose significant competitive advantage. Panelists include representatives of Carnegie Mellon University, DreamWorks Animation, and Electronic Arts.
Pre-Visualizing a Road for Financing and Expansion: In a keynote presentation to the Symposium, CEO Chris Edwards of The Third Floor will describe his decision to expand his pre-viz company into the Chinese market, and share the lessons learned so far. He will also explain how his company uses rapid prototyping as a tool for his clients to raise capital and pre-sell films or other entertainment projects.
A full list of speakers, as well as schedule and registration information, are available at: http://s2013.siggraph.org/attendees/business-symposium