The product is targeted to counter recent Autodesk gains in Catia shops with Alias Sketch and the growth of iPad design tools. Initial details are sketchy.



Dassault Systèmes today announces the availability of new Catia Natural Sketch, described as a 3D sketching tool that marries 2D painting gestures with 3D realism to "remove emotional barriers toward 3D creation." Catia needs such a product in its line-up to counter the inroads Autodesk is making in industrial design with its Alias product line.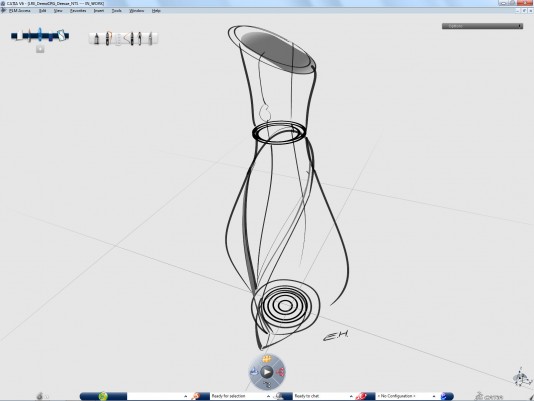 Initial concept designs often start with creative sketches, not with detailed CAD models. The past 12 months has seen a variety of new sketching products come to market, most for the iPad. Autodesk in particular is seeing success with its SketchBook Pro line, which includes both desktop and iPad versions. Catia Natural Sketch gives Dassault a product to prevent encroachment upon its user base from other vendors.
Dassault says Natural Sketch completes its new Catia for Creative Designers product line, which combines tools for 3D sketching, concept modeling, class-A surface modeling, rapid prototyping and visualization. The goal is to present a unified—and Dassault-based—industrial design workflow, to keep everything from ideation and concept to refinement, design validation, and final production-ready 3D product within the Dassault environment.
Dassault always likes to provide multiple layers of product branding to describe its products, and today's announcement is no different. Not only is Catia Natural Sketch part of the Catia for Creative Designers product line, it is also an element of what Dassault calls the "Live Design leadership strategy," complimenting the release a year ago of Catia Live Rendering for photorealistic visualization.
Sketchy details on a 3D sketching tool
We'd like to give you more details about Catia Natural Sketch today, but the combination of the impending Thanksgiving Day holiday weekend in the US and the ongoing Dassault European Customer Conference in Paris, has made reaching a knowledgeable representative a challenge. Among the many details not shared in the press release are price (we'll guess somewhere between $800 and $2,000), platform (only in a Catia environment?), and need for a sketching tablet (Cintiq?). There's no mention of a possible iPad version and no mention of suitability for use outside the Catia environment. When these details become available, we'll update this article.