Catia and Enovia were flat globally but strong in China and Korea. The company increased its shareholders dividend by 14%.
Dassault Systèmes (Euronext Paris: DSY.PA) reported year-over-year revenue growth of 4% for the second quarter of 2013. The company said that "despite the weak macro environment," all regions maintained revenue growth. Asia was the strongest for Dassault, with a 12% increase in revenue when compared to 2Q12.
Total revenue for the quarter ending June 30, 2013 was €522 million ($683.8 million), up 4% (6% in constant currencies). Software revenue was €474.5 million, up 6% in constant currencies; services and other revenue was €47.5 million, up 9% in constant currencies.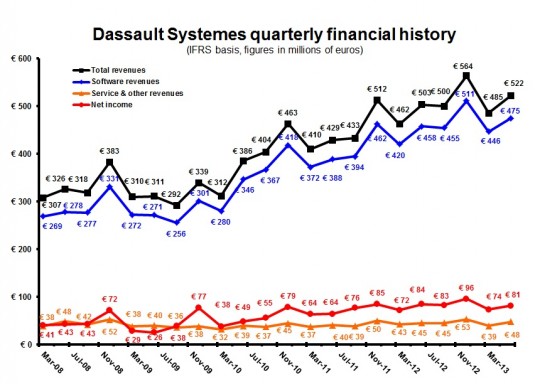 Net income was €81 million, ($106 million) down 3.5% from a year earlier.
The company said Catia (CAD) and Enovia (data management) revenue were flat compared to a year ago; other PLM brands in the Dassault portfolio increased 24%, driven by results from the new Geovia  division (geoengineering) and strong results for Delmia (factory design) and Simulia (simulation).  Breaking down revenue further (percentage change in constant currencies):
PLM Software: €369.6 million, up 6%
SolidWorks revenue: €104 million, up 6%.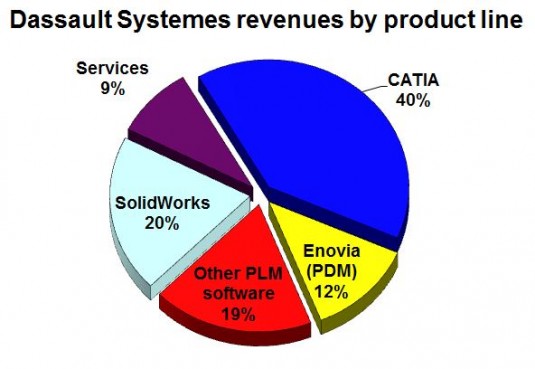 Dassault said a strong quarter in Asia was led by new sales in China and Korea. European revenue was strong a year ago, making this quarter's result look weaker. Revenue by geographic regions (percentage change in constant currencies):
Americas revenue: €145.4 million, up 6%
Europe revenue: €231.1 million, up 2%
Asia/Pacific revenue: €145.5 million, up 13%.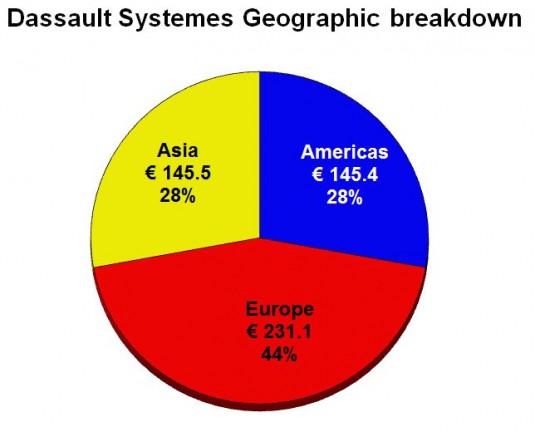 In May the Dassault board of directors approved a 14% increase in the annual shareholders dividend, equivalent to €0.80 per share. The board also approved an option that allows shareholders to choose between cash and new shares. 68% of Dassault Systèmes' shares opted to receive the dividend in the form of new shares.
Six more of our custom charts follow. Larger versions of these charts are available at our Facebook page: www.facebook.com/GfxSpeak
L. Stephen Wolfe, P.E., a consulting analyst for Jon Peddie Research, contributed research for this report.