The annual JPR Siggraph Press Luncheon bit into the benefits and problems of a rapidly changing industry.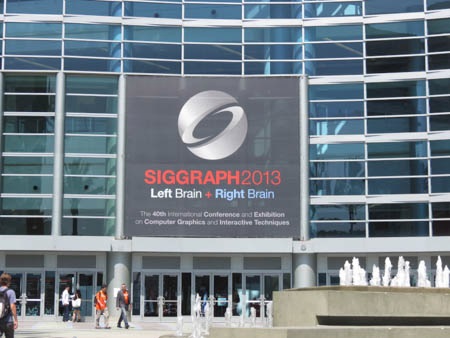 The media and entertainment industry (M&E) continues to be whipsawed by external economic forces and a relentless pace of innovation that commoditizes and democratizes every part of the production process. An investment of $10,000-$20,000 today gives an individual filmmaker the tools to compete as a technical equal with the largest studio. As if that weren't enough to strike fear in the hearts of Hollywood moguls, the economy is exerting a second set of pressures. Governments compete with tax incentives and payroll subsidies to attract the industry away from its traditional enclaves. A sideways economy means less money for investing in new projects. Yet demand is strong for more content, and the computer revolution continues to create new distribution platforms and services.
Last week at Siggraph JPR assembled five computer graphics experts from both industry and academia to share their insights on these issues with a group of journalists. Now in its 11th year, the Jon Peddie Research Siggraph Press Luncheon has become a fixture of the annual conference. This year JPR invited:
Joe Herman, a 3D animator, post-production specialist, instructor, and journalist;
Joni Jacobson, executive producer at Pixomondo, a leading VFX house;
Dr. Paul Navratil, researcher and manager of the Scalable Visualization Technologies group for the Texas Advanced Computing Center at the University of Texas at Austin;
Michael Romey, head of production pipeline at Zoic Studio;
Dr. Lincoln Wallen, CTO of Dreamworks Animation SKG.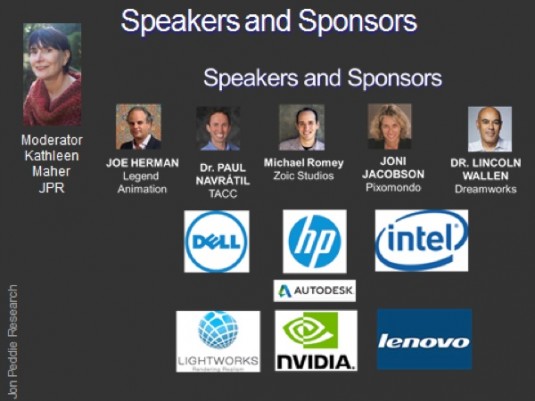 The midday session was not a debate or a lecture, but a shared discussion with insights bubbling up like Jed Clampett's crude oil, as the panelists and moderator Kathleen Maher of JPR tried to make sense of all the conflicting pressures and relentless forces where computer graphics meets M&E. Jon Peddie started things off with a couple of charts showing how the computer graphics industry is growing 5% annually, yet attendance and exhibitor participation at Siggraph has been on the decline for several years. So what gives?
Dr. Wallen noted how aerospace was at one time the driver of the commercial computer graphics industry, but it moved from custom solutions to off-the-shelf software. "SGI died at this conference in 1999," he noted, an early victim of commoditization as both the open source Linux operating system and the Microsoft/Intel duopoly drove down prices. Dr. Navratil noted conferences get commoditized as well as products and services. Where once Siggraph was the only place to showcase new products for M&E, now professional computer graphics technology is an important part of the IBC conference, and new conferences such as FMX have sprung up.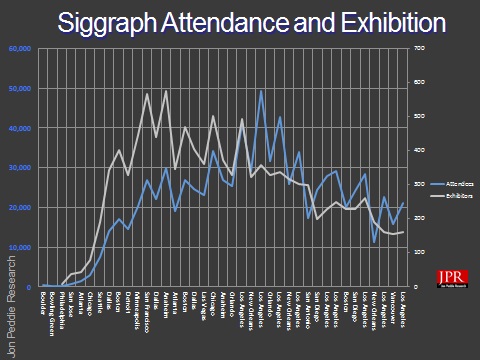 Maher noted "when something goes digital, it becomes fluid," to which Jacobson commented how Pixomondo is responding to that fluidity by distributing its workload geographically, not only to save money but to stay competitive. Wallen said Dreamworks does not consider its Bangkok studio an example of oursourcing, which implies the use of contractors, but insourcing, where the remote location is just one more office taking advantage of Dreamworks' scale. Jacobson also noted that having offices outside the US—as opposed to just hiring contractors—gives important insights to cultural differences that can cause production disruptions if not handled right. "Email is a difficult medium to communicate cross-culturally."
Joe Herman made it clear he is a big fan of commoditization in computer graphics. "We went from needing $100,000 worth of software to [Adobe] Creative Cloud. Today I can appear like a huge company." Michael Romey said his studio is taking the lessons gained in film and games and applying them to the fast and (relatively) cheap world of broadcast. "We are looking for ways to integrate virtual production into the shows we work on." Zoic is building a new iPad app, a storyboarding tool specifically for episodic TV production and commercials. The new app will frame shots and work with digital assets created for shots. "We are creating workflows that allow everyone to see CG as soon as possible. Being episodic allows us to look at past processes and plan accordingly."
The panel agreed that hits still drive M&E, but as Herman noted, "hits occur in different places today, like YouTube and Kickstarter." Wallen noted how fully digital distribution blurs the nature of content from creation to distribution: "Distribution changes content," he said, using as an example a game in South Korea that switched from traditional single-purchase distribution to being played online, and shot to #1 in the country as a result.
How will mobile change M&E? The panel agreed it affects every existing market (games, film, broadcast), but the changes will ripple through the industry in unexpected ways. "Media is no longer restrained by device," noted Wallen. "Now it is only restrained by architecture."