Annual revenue tops $3 billion for the first time. Currency fluctuations were a doubled-edged sword for the French company.
By Randall S. Newton
Dassault Systèmes (OTCPK: DASTY) closed 2014 with a strong fourth quarter. Total revenue of €673.2 million was a quarterly record, up 19% (16% in constant currencies). Measured in US Dollars growth was not as robust, up 9% year-over-year to $841.5 million. Fiscal year 2014 total revenue was also a record, at €2.29 billion, up 11% (14% in constant currencies) from a year ago. In US Dollars FY2014 total revenue was $3.05 billion, the first time Dassault annual revenue has topped $3 billion.
Net income for the fourth quarter was €100.4 million ($125.5 million). For the fiscal year (ended December 31, 2014), net income was €291.1 million ($437.5 million).
DS CEO Bernard Charlès attributed the solid growth to accelerated acceptance of the company's "3D Experience" approach, which it first started to articulate in 2012. The company is working to sell complete solutions, targeted by industry, as opposed to generic engineering software product.
Dassault stock was trading up 8 % to 67.57 immediately following the earnings announcement today.
Digging deeper into fourth quarter revenue:
Software revenue: €592.2 million ( $740 million)
Services/other revenue: €81.0 million ($101 million)
New license revenue: €199.2 million ($249 million)
Periodic licenses/maintenance: €393 million ($491 million)
Fourth quarter revenue by product line:
Catia: €230.5 million ($288 million), up 7% from 4Q13
Enovia: €77.8 million ($97 million), up 5% from 4Q13
SolidWorks: €125.9 million ($157 million), up 14% from 4Q13
Other software: €158 million ($197 million), up 30% from 4Q13.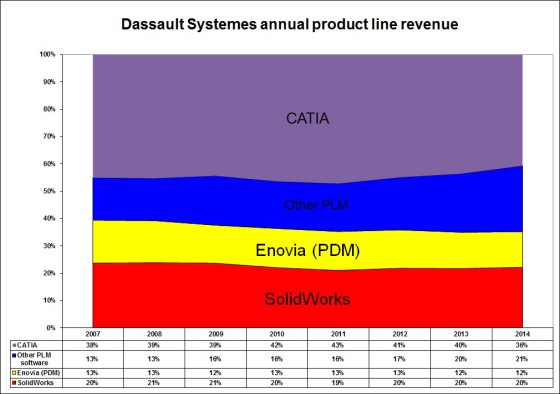 Globally by industry segments, Dassault said the fourth quarter was strongest in Transportation, High Tech, and Life Sciences. "Other software" was strengthened by new products from recent acquisitions RTT and Quintiq, as well as strong demand for Simulia simulation software.
Fourth quarter revenue by geography:
Americas: €198.4 million, up 24%
Europe: €318.2 million, up 15%
Asia: €156.6 million, up 10%.
The company said results in the Americas were led by its direct sales channel, which it has been investing in. Results in Europe were led by Germany, UK, and a rebound in Southern Europe. Results in Asia were led by Korea, China, and Japan.
New licenses of SolidWorks in the quarter topped 15,000 for the first time, at 15,312. This number excludes add-on products.
Dassault estimates the drop of the Euro against the US Dollar resulted in a net revenue gain of approximately 3%. As a multi-national corporation with a strong US presence, the dramatic rise of the US Dollar cuts both ways for Dassault.
Twelve more of our custom charts follow. For larger versions, see our Facebook page.
Stephen Wolfe, P.E., a contributing analyst for Jon Peddie Research, provided research and his usual legendary insights for this article.