With 16 acquisitions in two years, the French PLM company seeks to double the addressable market for an expanding array of services.
By Randall S. Newton
Dassault Systèmes (DASTY: OTCMKTS) closed the books on 2013 today, reporting revenue that was up 5% in both the fourth quarter (ending Dec. 31, 2013) and the full fiscal year. Having acquired 16 companies in 24 months, Dassault is positioning itself for another doubling of its addressable market by extending its strength in 3D, simulation, and data management into new sectors.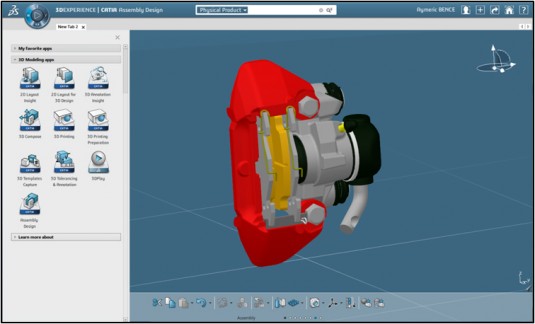 Revenue in the fourth quarter was €564 .4 million ($763 million), up 5% from a year ago when measured in constant currencies. For the full year revenue was €2.06 billion ($2.78 billion) also up 5% in constant currencies. Because of the uncertainties of the global economy and the constant fluctuations in currency exchange rates, comparative results in this article use the constant currencies percentage figures provided by Dassault Systèmes, calculated in accordance with accepted accounting standards.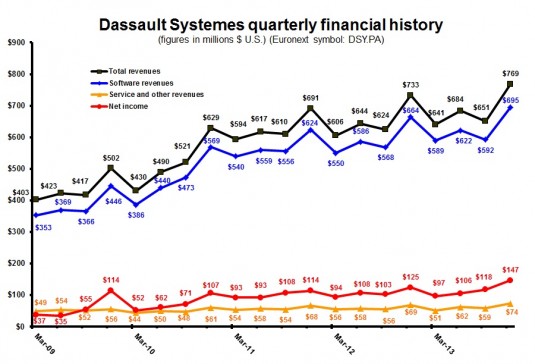 Revenue from software in the fourth quarter was €511.1 ($690.9 million), up 5%; services revenue in the quarter was €54.3 million ($73.4 million), up 8%. For the full year, software revenue was €1.88 billion ($2.54 billion), up 5%; services revenue for all of 2013 was €185.3 million ($250.5 million), up 4%.
Net income for the fourth quarter was €108 million ($146 million), up 10%. For all of 2013 net income was €355.2 million ($480.1 million), up 4.8%.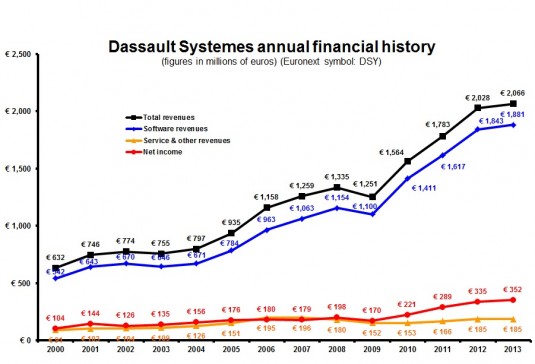 Selected product line revenue, measured in constant currencies and compared to the year-ago period:  
Catia revenue in 4Q13 was down 3%; Catia revenue FY2013 was flat.
Enovia revenue in 4Q13 was up 5%; Enovia revenue FY2013 was up 1%.
SolidWorks revenue in 4Q13 was up 7%; SolidWorks revenue FY2013 was up 6%.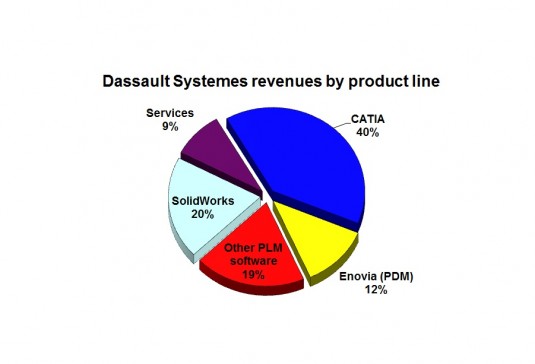 Revenue by geographic regions:
Americas revenue in 4Q13 was up 3%; Americas revenue FY2013 was up 4%.
Europe revenue in 4Q13 was up 4%; Europe FY2013 revenue was up 4%
Asia revenue in 4Q13 was up 10%; Asia revenue FY2013 was up 9%.
Other highlights of 2013 reported by Dassault Systèmes:
19,500 new customers
Revenue from new industries is now 25% of total revenue. DS identifies construction, consumer packaged goods, energy, and natural resources as its new industries
"High growth countries" revenue was up 13%, and now represents 12% of total revenue. DS identifies China, India, South Korea, Latin America, and Russia as its high growth markets.
What do we think?
Catia and Enovia sales are essentially flat, and have been de-accelerating since the start of the recession. SolidWorks still has modest growth, but doesn't generate enough revenue to compensate for Catia. Dassault is counting on its many acquisitions—16 in the past 24 months—to be its source of growth in coming years. When it closes later this quarter, Accelrys will add 6% to company revenue; RTT will bring in about 20% as much as SolidWorks at current sales levels. Accelrys takes DS into new markets, but RTT is heavily concentrated in automotive (80% of revenue) and aerospace.
L. Stephen Wolfe, P.E., a contributing analyst for Jon Peddie Research, provided research for this report.
Eight more of our custom charts follow. Larger versions of these charts are available at our Facebook page, www.facebook.com/GfxSpeak.