Currency differences and a slowdown in PLM purchases lead to essentially flat revenue.
By Randall S. Newton
Physical winds may have carried Dassault Systèmes customer Oracle Team USA to victory in the third quarter, but market and currency winds left the CAD vendor sitting almost still. The rise of the Euro against the US Dollar throughout the quarter along with lackluster PLM sales in most regions combined for a nearly flat quarter.
Total Dassault Systèmes (Euronext Paris: #13065, DSY.PA) revenue in the third quarter (ended September 30, 2013) was €493.4 million, down 1% in Euros and up 4% in constant currencies. Net income was €89.5 million, up 8% year-over-year.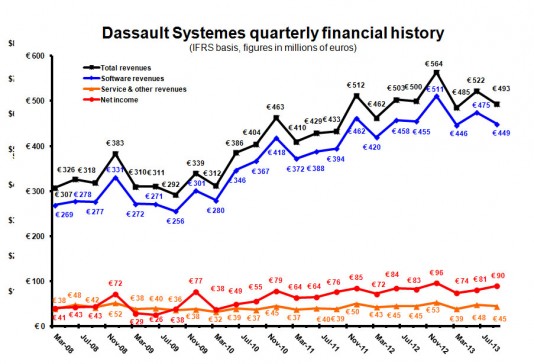 Revenue from the SolidWorks division in the quarter was €97.7 million, down in Euros but up 6% in constant currencies. New SolidWorks commercial seats licensed totaled 11,290 in the third quarter, down 6% compared to 11,984 seats in 3Q12.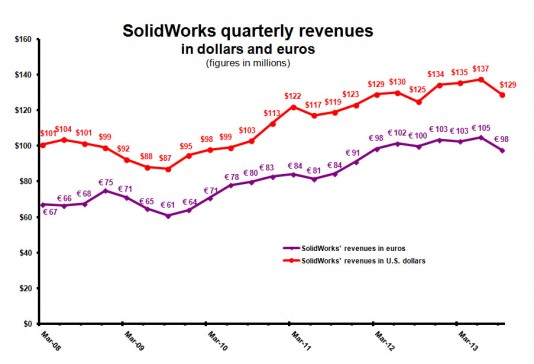 PLM revenues (primarily Catia, Enovia, and Simulia) were €351.1 million, also down in Euros but up 4% in constant currencies. "Third quarter results reflected a convergence of events with the common thread of a weak macro environment," says Bernard Charlès, Dassault Systèmes CEO. "… customers are taking more time to evaluate investment decisions."
Revenue by regions in the third quarter, and compared to the year-ago period:
Americas, €138.8, up 1% in constant currencies;

Europe, €219.0, up 7% in constant currencies;

Asia,  €135.6, up 4% in constant currencies.
At Autodesk, PTC, and Ansys revenue by region is roughly equal (as a percentage of total revenue) in the three major regions (Americas, Europe/Middle East/Africa, Asia/Pacific). By comparison, over the last two or three years Europe has been increasing as a revenue source for Dassault, and is now responsible for 44% of total revenue.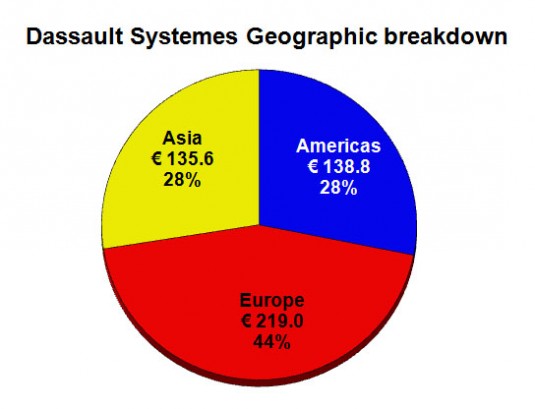 Our take
There is no single reason revenue is down for Dassault. The global economy perked up earlier this year, but then started going sideways. (Any effect from the US Government shutdown is a fourth quarter issue.) Increased interest in cloud technologies may have caught Dassault in a tough spot; V6 is web-aware but that is not the same as deployable in the cloud. SolidWorks unit sales are especially intriguing, as it involves fewer seats year-over-year, but increased revenue from the division. The annual North America customer conference is next month in Las Vegas, and we will be there to get a better sense of Dassault's direction and plans.
L. Stephen Wolfe, P.E., a contributing analyst for Jon Peddie Research, provided research for this report.
Six more of our custom charts follow. Larger versions of these charts are available at our Facebook page, www.facebook.com/GfxSpeak.