iRing 3D is based on the simple yet sophisticated technology behind ParaCloud's GEM for architectural design.
ParaCloud has taken its GEM 3D pattern modeling technology for architecture and turned it into an iPad app for designing and printing rings. The simple yet sophisticated app takes full advantage of the iPad, from offering starting templates, modifying the design on the touch screen, or sending off the final design to a 3D printing portal.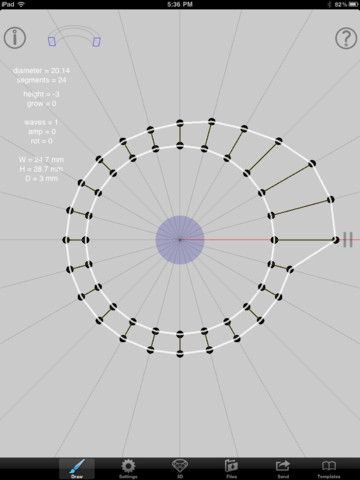 iRing3D was created by Dr. Eyal Nir, founder of ParaCloud. The app integrates with ParaCloud GEM 5, so users can move the ring design into ParaCloud GEM for additional processing. The parametric technology controls the 3D form at all times, making it easy to concentrate on design and not worry about the basics of geometry.
Finished designs can be sent directly to either Sculpteo or Shapeways, two online 3D printing service bureaus popular with jewelry designers and DIY types.
By offering direct upload to 3D printing portals, iRing3D lets users skip the process of creating the STL or OBJ files required by the 3D printers and simply get their designs printed.
Why jewelry?
Making jewelry has become the 3D printing industry's equivalent of picking the low hanging fruit. Nir said ParaCloud decided to focus on jewelry design as their first consumer application of GEM parametric technology because the end result could be printed at low cost. Keeping the app limited to designing rings also made it easier to scale GEM technology down to the expected size and ease of use required in a tablet-based program.
See also the GraphicSpeak article, "ParaCloud takes generative architecture beyond gearheads."