A new GPU architecture, a new way to increase CPU-GPU data transfer  bandwidth, and a supercomputer in a mobile form factor were among the surprises.
Nvidia CEO Jen-Hsun Huang loves to get his geek on when he takes the stage every year at Nvidia's GPU Technology Conference (GTC). He always shows off the latest from Nvidia R&D and has an announcement or two to make. But this year even the most jaded industry veterans in attendance were leaving the keynote hall saying "Wow!" after a morning session with a string of big announcements:
NVLink, a high-speed interconnect between the CPU and the GPU, enabling these two key processors to share data five to 12 times faster than possible today;

Pascal, the next milestone on Nvidia's GPU architecture roadmap, will leverage NVLink and a new 3D chip design process to improve memory density and energy efficiency;

GeForce GTX Titan Z, a dual-GPU graphics card that will become the company flagship when it ships later this year for a suggested $2,999;

Jetson TK1, an embedded development board computer that puts supercomputing power in a mobile form factor for $192;

The Iray VCA, a graphics processing appliance for real-time photorealistic rendering and real-world simulation.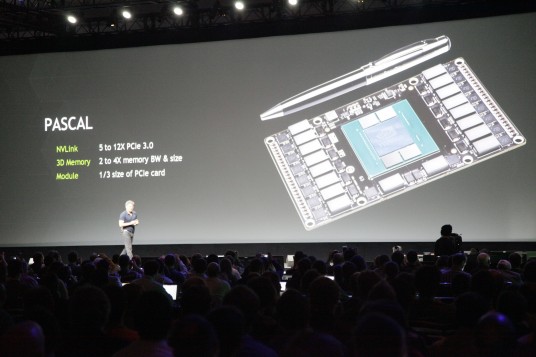 High performance and efficiency
As Huang introduced the various new products and technologies Nvidia will roll out in the next two years, he repeatedly referred to the dual demands of increased computation speed and energy efficiency. Nvidia is proud that the top 10 supercomputers on the Green 500 list all use Nvidia GPU technology. The NVLink and Pascal technologies of essentially intertwined, in that the increase in computational power and energy efficiency predicted for the Pascal generation of GPU architecture relies on the removal of the internal data bandwidth bottleneck promised by NVLink.
Pascal will support stacked memory, a new wrinkle in chip design created in partnership with IBM. Multiple layers of DRAM will be integrated vertically. Nvidia says this stacking of DRAM allows Nvidia to double memory capacity in a given footprint, quadruple energy efficiency, and increase bandwidth 5x to 6x. Putting high-density memory next to the GPU relieves the need to send data off to the CPU as often. It also allows Nvidia to design voltage regulators close to the GPU processor for more efficient power delivery.
Supercomputer in your pocket
NVLink and Pascal are next-generation announcements, which Huang says will allow Nvidia to continue to meet or beat the relentless goals of Moore's Law. They won't be on the market until 2015 at the earliest, and more likely 2016. Other products Huang announced today are based on current technology and will ship soon or are available today.
The Jetson TK1 is a development board based around Tegra K1 processor. It is designed to be the brain for such high-compute projects as robotics, computer vision, and augmented reality. Its form factor is about the same as for an oversized mobile phone. The Tegra K1 has 192 cores, thus the $192 price. Huang was excited to show off a prototype on stage, calling the device "a supercomputer in your pocket."
The Iray VCA (Visual Computing Appliance) combines hardware and software to accelerate Nvidia's existing Iray photorealistic rendering software. Iray is already used in several popular professional graphics applications, including Catia and 3ds Max; it is also used in several third-party rendering applications that accept models from a wide variety of CAD and other professional graphics software products. Putting Iray on its own appliance allows for a dramatic decrease in processing times; as Huang put it, "what took an hour will now take a minute." Iray VCA units can be linked for even more rendering efficiency. But at $50,000 per device, only the most demanding users will be ordering in bulk.
The GeForce GTX Titan Z will replace the  GTX Titan Black as Nvidia's top graphics card. The Black retails for $999 and has been selling well. AMD's equivalent competitor, the  top-of-the-line R9 290X, goes for $549. Nvidia is taking a risk that high-end gamers and power users will be willing to shell out $3,000 for a GPU. Too big to fit inside a PC, the Titan Z is an external device.