The reseller of "mousemade" creative content for products and services sees its new home in Autodesk as the fastest way to make beautiful graphics design simple and accessible to everyone.
A small company specializing in "hand-crafted, mousemade" design content for both digital and physical products has become the most recent Autodesk acquisition in the consumer design space. Creative Market supplies web templates, fonts, themes, and related graphic design products, as a common sales space for designers to reach a broader market. In addition to building a marketplace, Creative Market owns a technology called Seamless for turning designs and images into patterns.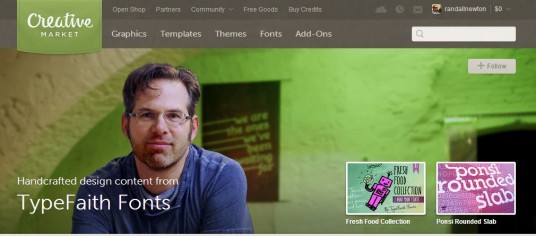 Creative Market has received $2.3 million in venture capital since its founding in 2011, so the purchase price Autodesk paid would be a multiple of the investment; Autodesk is not commenting on the acquisition, except to point inquiring journalists to two blog posts that appeared today. At HowDesign, former Creative Market CEO Darius "Bubs" Monsef, now Senior Manager of Marketplace for Autodesk, says "Creative Market has recently joined the Autodesk Consumer Group (ACG), a portfolio of maker, art and home design tools that enable self-expression. ACG's vision has been a focus on people who make things and a desire to democratize the underlying tools and technologies. By joining forces, ACG can lead Creative Market to a future where beautiful design can be simple and accessible to everyone."
In the blog on the Creative Market website, Monsef writes, "Can this champion of design software extend its legacy to empower designers and makers of all levels? We believe the answer is "yes" so much that we've decided to join them and to continue building this community and our tools and marketplace as part of the Autodesk Consumer Group."
Creative Market started in 2011 as a Y-Combinator-backed company. It has received $1 million in seed funding from a consortium of venture capital firms and angel investors (including Atlas Ventures), and a second funding round of $1.3 million from another group led by SV Angel and CrunchFund.
What do we think?
The mission of the Autodesk Consumer Group becomes clearer every day, and it is about more than buying up clever iPad apps. Autodesk sees significant upside in taking its expertise in professional design and using it as leverage to become a leading name in consumer-class design. The headline on the Creative Market blog post announcing the acquisition gets to the point: "Building the World's Marketplace for Design." From custom coloring on trendy sports shoes or a unique silk tie, the future of mass customization we've predicted for years is coming of age.
When laser printers first came to market, in theory it meant anyone could print quality graphics. In reality, most people's efforts were ugly. The same is true now that the cost of owning a web page is negligible. Graphics design experts were not put out of business just because the means of production and distribution became affordable. We all need a little help from someone with a style eye now and then, and Autodesk wants to challenge Adobe as the go-to software company to make it all happen.