Cl3ver's 3D presentations can now be seen on iOS tablets
The Cl3ver app is a cloud-based tool to create online 3D presentations – often architectural walkthroughs. It's a stylish piece of software that helps companies communicate information about their design to interested participants. The company has lately expanded its reach with the introduction of a application for iOS. The new app is free. Users on iOS who encounter Cl3ver presentations online can click the presentation and they will be automatically directed to the iOS App store to download the app.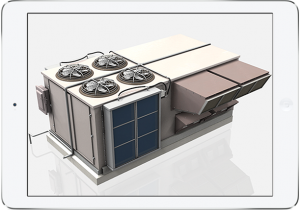 Now, any Cl3ver presentation can be viewed on an iOS device without having to reformat it. It can be stored on the device to be viewed offline.
In other news, Rhino
Most of the presentations available on the Cl3ver site for the public are architectural examples but the company is also reaching out to manufacture and industrial designers. As part of that effort, the company has added a plug-in for Rhino.
The new tool is a Beta version so users are asked to be tolerant of bugs and provide feedback. People working in Rhino can export 3D models directly into Cl3ver with geometry, hierarchy, materials, and textures from the Rhino model. Support for Rhino expands the market for Cl3ver since the product is used by a wide range of 3D designers.
With the release of the Rhino plug-in Cl3ver notes that Rhino is often used in environments where multiple 3D modeling products are used. The company says that because Cl3ver is agnostic in its acceptance of a wide range of 3D formats, presentations can contain models created with different software. The company offers a tutorial on using its plugins on the Cl3ver site.
There is a free version of Cl3ver that lets people publish one presentation. Companies who are interested in publishing multiple presentations can subscribe for a monthly contract.