Five billion Internet-connected objects by 2019, and PTC plans to be in the middle of it all. Tom Lansford reports from Stuttgart, Germany.
By Tom Lansford
PTC is a major player in CAD and PLM. However, the company's strategic push continues to focus on fulfilling customer needs related to seven major forces impacting the manufacturing industry. The addition of Internet of Things (IoT) technology via Thingworx and Axeda positions the company to support customers during the most significant transition manufacturing companies will navigate over the next decade.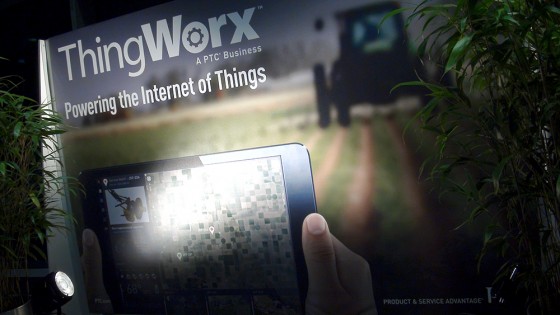 The Internet of Things is not about smart factories and building efficiencies. Yes, it will transform factories and increase efficiencies. But fundamentally, the Internet of Things changes the landscape of what is possible in manufacturing, building, design, transportation, urban planning, medical sciences …
And when the impossible becomes possible, inflection points occur. Inflection points in industry create risks and opportunities. Fundamentally, one of the most important inflection points for many of your businesses will be a complete, radical business model transformation. For that, you need to be ready. Are you?
Rob Gremley, PTC's executive vice-president for IoT and SLM provided the keynote presentation in Stuttgart. The importance of the Internet of Things is stated immediately with this projection. In just 5 years, there will be approximate 8 billion people on the planet and there will be 50 billion 'things' connected to the internet. Why that is true is clear for most engineers. Essentially everything today already has some kind of computer or intelligence inside, and all of these devices can be connected to the internet.
Continue reading "Are you adapting to the Internet of Things?" at CADplace.
CADplace provides information on the CAD and professional design market In German, French and English. Tom Lansford has been working in the professional graphics market for more than 25 years.