More than 300,000 3D animated characters have been created on the service.
Online 3D character creation service  Mixamo, Inc. will release a major update of the service next month. Called "Mixamo 2.0" the new version includes significant updates to the user interface to make finding, creating, organizing, sharing and purchasing Mixamo's 3D character assets and animations easier.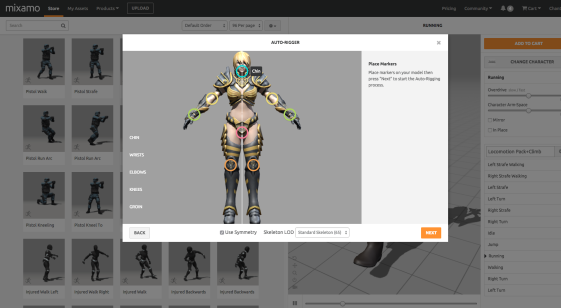 A new WebGL viewer makes it possible to view characters without a special plug-in. Mixamo CEO Stefano Corazza says WebGL is now in use on 88% of all browsers in active use on the Web. Fully supporting WebGL in this update was an important consideration, says Corazza: "We want to make sure people can share 3D experiences in the browser. This is a point of major change in the industry."
Most characters created by Mixamo users are for games, but the characters conform to industry standards for 3D content and could be used in other settings, as for architectural renderings or product visualizations. Well known Indie games that have used Mixamo for character creation include Last Life, Grav, Tiny Keep, Identity Crisis, The Repopulation, and Roundabout.
Among the new features in Mixamo 2.0:
Streamlined User Experience: Users can now animate 3D characters with a faster and more straightforward workflow. For example, users will be able to access animation editing features from more screens, including the search results page.
Improved Search Capabilities: Faster search function helps artists find what they're looking for in seconds. In addition, search results will deliver more options, such as characters, animation packs, and individual animations together.
Expanded Animation Packs: Mixamo 2.0 adds 20 new animation packs spanning different game genres/activities. Every set is also fully customizable.
WebGL Viewer: The new WebGL Viewer was developed in collaboration with Verold for 10x faster browsing of characters and animations. Now artists will be able to search and modify assets on their desktop and mobile browsers, with no plugin required.
Bulk Download: Users can now organize and download multiple animations at once, which speeds the work process of creating characters going through a number of different movements.
Increased User Feedback: Artists can now "favorite" characters and animations and share them with their team for review.
All of the new functionality will be available soon at www.mixamo.com/store. Pricing options can be found at www.mixamo.com/pricing.
What do we think?
Mixamo has been around since it launched as a Stanford spin-off in 2008, and seems to be finally coming into its own. It owns several relevant patents, and the full adoption of WebGL will only increase user interest. The software's ability to automatically rig characters for movement is what keeps people coming back; it can take hours or days to it manually, but in Mixamo the process can be done in minutes.