The first iPad viewer for AEC/BIM is still the technical leader.
CadFaster has updated its Collaborate iPad 3D viewer for AEC/BIM applications, with improvements to the core product and to specific plug-ins for Autodesk Revit and Bentley SelectSeries 3 BIM applications.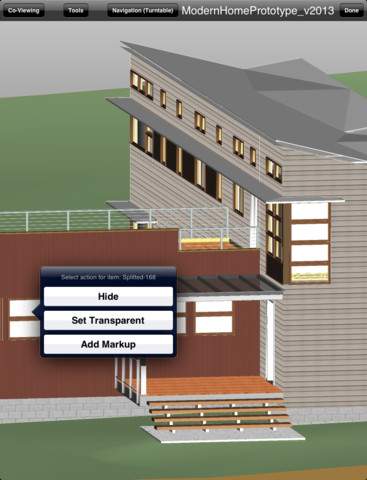 CadFaster Collaborate users store models in the cloud space called the CadFaster 3D model box. The first 100 MB of storage are free with purchase; more storage space can be purchased. The app allows users to share, view and co-view 3D models stored in these boxes.
CadFaster Collaborate supports a variety of 3D model types by offering specific extensions for Vectorworks, Autodesk Revit, Bentley MicroStation, and SolidWorks. Add-ins for exporting 3D models to CadFaster cloud-storage can be downloaded from the CadFaster website.
New features in the core app include:
An upgrade of the CadFaster Cloud Services, the app's storage and sharing environment;
Faster model loading, including new local cache optimization;
Cloud-based healing and optimization for models;
Support for alternate screen orientations.
CadFaster has also updated its Bentley and Autodesk Revit plug-ins. The Bentley plug-in supports mobile viewing of large DGN files, and supports high-security corporate proxy servers.  The Autodesk Revit plug-in update is a general release to match changes in Revit.
CadFaster Collaborate comes as a 14-day free trial with full functionality during the trial period.
Staying a step ahead
When we first profiled CadFaster, it was a start-up ahead of the big players with its ability to bring not only viewing but also markup to the iPad environment. These updates solidify its lead, and people are noticing. It was recently award "Best of Show" at the 2012 AIA convention.