Web 3D Glimpse does not use WebGL, allowing it to work on any browser without a plug-in.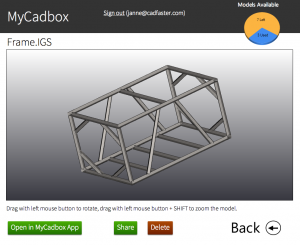 CadFaster has upgraded its online CAD viewer MyCadbox with support for any browser on any platform. Most web-based CAD file viewers use WebGL, which is not supported by Microsoft Internet Explorer and on various mobile platforms. MyCadbox circumvents the need for WebGL with a custom approach to CAD file viewing it calls Web 3D Glimpse.
To use, navigate to the model page from the MyCadbox Dashboard and click any model listed. "The MyCadbox real-time online 3D viewer is intended for a quick model preview," says Tuomas Holma, VP of marketing for CadFaster. "For serious 3D, we recommend the MyCadbox app."
MyCadbox and the Web 3D Glimpse support the STEP and IGES 3D formats.
Other features in this up date to MyCadbox include:
IGES support
Single-button model sharing using email, with a screenshot of the shared model sent with the email.
An update to the iPad app
An invitation button; if invitation is successful CadFaster will reward inviter with 2 models added to their quota
The MyCadbox model dashboard can now be accessed on mobile devices
CadFaster was the first company to publish an architectural 3D viewer for the iPad, CadFaster Collaborate.