When other companies are moving to all-browser or mobile apps as a primary platform, CADfaster goes retro with a desktop application as the centerpiece.
CadFaster came to market in 2010 as the first third-party developer of CAD viewing tools for iPad. The startup took advantage of the strong architectural research infrastructure in its home base of Finland to gain first-mover advantage. CadFaster Collaborate was on the market more than a year before competing vendors, supporting first AutoCAD and MicroStation, then SolidWorks and Revit.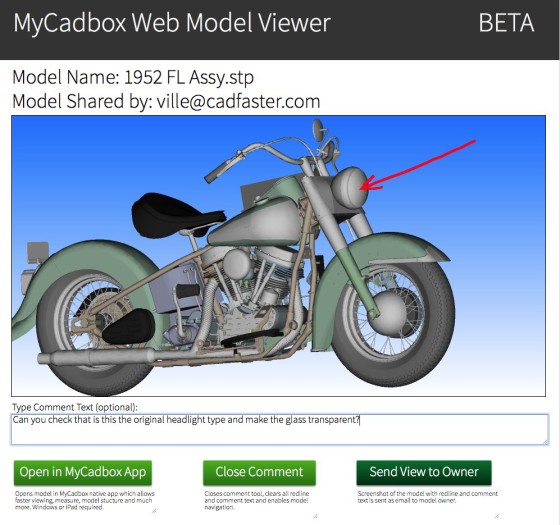 Since then the CAD viewing mobile market has become crowded, as both the leading CAD vendors and many smaller engineering software toolmakers have brought competing products to market. In a move that seems counter-intuitive, CadFaster responded with a new viewing tool that goes back to the desktop.
CadFaster introduced MyCadbox in 2013 as a CAD collaboration tool, not just for construction but also for product design. It is one of several new CAD collaboration tools on the market using the Hoops Exchange toolkit from TechSoft 3D. MyCadbox works as a Windows desktop application for uploading, downloading, and viewing CAD files, and syncs with an iPad app and cloud support. MyCadbox is not trying to be all things to all CAD users; it is targeting the feedback/review process for keeping stakeholders in the loop.
From the beginning CadFaster decided MyCadbox would not depend on WebGL, the open source toolkit for viewing 3D graphics in a browser. Or to depend on the browser at all. CadFaster says some of its key customers, including early adopter Foster + Partners, are sharing huge 3D files that overcome browser frame rates.
A recent update adds several features to MyCadbox, including:
Model Share Link: A new way to share CAD files with a link;
MyCadbox Web Viewer: Pre-view the model in browser; exchanges speed for detail; best for sharing with non-users of MyCadbox;
Immediate Feedback: Comments added to models are received in seconds by team members
Accurate measurements: Area, volume, diameter.
What do we think?
A shakeout is coming in CAD-based collaboration. When CadFaster came to market, GrabCAD was strictly a free community sharing 3D models; it is now a subsidiary of Stratasys selling what it believes is a PDM killer, GrabCAD Workbench. US-based TeamPlatform, another cloud-aware CAD collaboration tool that launched about the same time as CadFaster, has been acquired by 3D Systems. Meanwhile, traditional desktop-and-network PDM tools from the likes of SolidWorks, Siemens PLM's mainstream division, Synergis, and Autodesk are not standing by idly. Tiny CadFaster can be a player if it sticks to its strengths: ease of deployment (inexpensive, quick to first use), broad 3D CAD format support, and a laser-tight focus on serving stakeholders, people who generally can't be bothered with owning or using a CAD editing tool.