The annual CAD Society awards for Industry Leadership, Lifetime Achievement, and Community Service are being given out tonight at COFES 2011 in Scottsdale, Arizona.
A hardware developer, a manufacturing engineer, and an outspoken journalist are the recipients of this year's awards from the CAD Society. Specifically:
Dieter Neujahr, CEO and general manager of 3Dconnexion, is the winner of the 2011 CAD Society Leadership Award
Dr. Richard Riff of Ford Motor Company is the winner of this year's CAD Society's Lifetime Achievement Award
Martyn Day of X3Dmedia is the winner of the 2011 CAD Society Joe Greco Community Award for his achievements as a leader in the CAD editorial community.
CAD Society Awards acknowledge the contributions made by individuals that have affected and developed the CAD, engineering, manufacturing and architecture software industries.
Dieter Neujahr of 3Dconnexion, winner of the 2011 CAD Society Leadership Award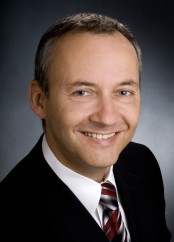 The Leadership award is presented for outstanding technical and business leadership in the CAD industry, and focus and dedication to the needs of CAD users.
In a prepared statement, the CAD Society notes that 3Dconnexion 3D mice have revolutionized the way engineers and architects work by enabling unprecedented control of 3D models, resulting in productivity gains, improved efficiency and enhanced comfort. Neujahr, who joined 3Dconnexion in 2006, has been instrumental in defining the company's strategy and steering the company during a period of significant growth, evidenced by the recent announcement of the shipment of its one millionth 3D mouse.
Neujahr has over 25 years experience in the high-tech industry. Prior to joining 3Dconnexion Dieter was the EMEA Managing Director of Operations for Google's SketchUp division. Dieter also founded and managed the Central European Operations of Intuit, Inc., a provider of personal finance solutions.
Past winners of this award include Ping Fu, Bill McClure and Dan Staples, Carl Bass, Jay Sunyogh, Dana K. "Deke" Smith, Robert McNeel, Tony Affuso, Tom Butta, and Jon Hirschtick.
Dr. Richard Riff of Ford Motor Company, winner of the 2011 CAD Society Lifetime Achievement Award

The CAD Society Lifetime Achievement award recognizes a lifetime of outstanding technical and business contributions to the CAD industry.
In 1996 Riff defined a vision for PLM and CAD that the industry is pursuing to this day: "The objective is to unify CAD, CAM, CAE, and product information management (PIM) so as to make them effectively a single application from the user's point of view. There is no reason to differentiate design, analysis, manufacturing, and information management, all of these activities are necessary to create a product." This was the vision upon which he founded Ford Motor Company's C3P program at the time.
Billed then as one of the largest computer-based technology transformations in history, Riff not only developed the vision, but drove implementation of the integrated C3P solution at an unprecedented pace. In 1996 Ford started two vehicle development programs using the new C3P product development software. In 1999 there were more than 40 programs, and by 2000, more than 60, including Jaguar, Mazda and other joint-venture vehicle development programs. The C3P vision extended beyond the walls of the Ford enterprise and included over 800 suppliers using the C3P toolset.
"Dr. Riff's C3P initiative was quite bold and its implementation led to many innovations that are part of the core of today's PLM. " says Brad Holtz, president & CEO, Cyon Research. "Dr. Riff's vision and theory, insisting on best-of-breed, were the key drivers to developing an integrated PLM solution that provides greater value for Ford than any single-vendor solution. And he then went and proved his theory."
In 1998 Riff was named Ford Technical Fellow, the most prestigious technical expert position at Ford Motor Company. In this capacity he has been shaping Ford Motor Company information strategy across the entire scope of end-to-end Product Creation.
Riff joined Ford in 1989 as a CAE Technical Specialist and in 1996 became Director of the C3P Project Office.  In that position he led the development and implementation of CAD-CAM-CAE and Product Information Management (PIM) strategy. A native of Israel, Dr. Riff previously was Professor of Aerospace Structures at Georgia Technological University in Atlanta, Georgia and at Technion Institute of Technology in Israel, where he received a B.S., M.S. and Ph.D. in Aeronautic and Mechanical Engineering.  He has authored more than seventy technical publications and several books in his areas of specialization.
Dr. Riff joins previous recipients of this award including Michael Payne, Dick Sowar, Mike Riddle, Dean Kamen, Russell F. Henke, Ken Versprille, L. Stephen Wolfe, Carl Machover, Dr. Joel Orr, and Dr. Patrick Hanratty.
Martyn Day of X3Dmedia, winner of the 2011 CAD Society Joe Greco Community Award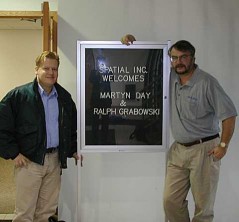 Day has been in the industry for more than 20 years starting at EDA Ltd., in London, UK., writing, editing and managing Caddesk Magazine, CADD magazine, MicroStation User Europe, AEC Magazine and other publications. During that time he garnered worldwide industry recognition for being honest with his reporting and commentary and being one of the best debaters in the CAD industry.
Carl Bass, CEO, Autodesk, says, "Martyn has been a strong and outspoken advocate for the community of users – a curmudgeon with wit who speaks out for what he believes in. I'm very pleased to see this award given to Martyn."
"Martyn has always impressed me with his insight and unrelenting search for the truth," says Roopinder Tara, editor of TenLinks. "In an industry that often mistakes the ordinary with the important, tries to impress with mediocrity, and whose champions hope that whatever was stated last year will not be remembered, there's Martyn to take them to task."
In 2008, Martyn co-founded X3Dmedia and launched Develop3D magazine in partnership with Al Dean and other partners – a publication now recognized as one of the industry's most pervasive and high quality print and online magazines.
"Martyn Day is an aggressive and brilliant advocate for the engineering software user and, unique among his peers, the reseller. His passion for the tools of design and the people who sell them shine through in his writing," says Randall Newton, of Jon Peddie Research. "Thank God for the Internet, otherwise only Brits would be the beneficiaries of his keen insights. At various times in my career, I have been Martyn Day's editor, business partner, and competitor. I am grateful he has always been my friend."
Martyn studied engineering and publishing at Oxford Brookes College and has spent his entire professional career pursuing, commenting and writing on the CAD industries from his U.K. homeland.
Past winners of this award include: Roopinder Tara, Richard Doyle, Evan Yares, Michael Payne, Sean Dotson, Chris Yessios, Ralph Grabowski, and others.
Awards ceremony at COFES 2011
These awards will be presented at COFES (Congress On the Future of Engineering Software), this year scheduled for April 14-17 2011 in Scottsdale, Arizona.
About the CAD Society
The CAD Society (www.cadsociety.org) is a not-for-profit industry association with the goal of fostering community and encouraging open communication among those who make their living within the CAD industry including AEC, mechanical, manufacturing, and GIS. The CAD Society is dedicated to creating an informative community and improving the tools its members employ in order to get their jobs done. This is achieved by providing an open forum of communication, which helps to illuminate the practices of industry vendors. It has been a leader in creating interoperability guidelines that encourage software vendors to develop applications that can openly share data.