Akeytsu from French start-up Nukeygara provides only the necessary features for 3D character rigging and motion; "our clients are creatives, not engineers."
The current generation of top animation software is the result of a 20-year arms race, with each product seeking to offer more features—with resulting additional complexity—in each release. The result, says Nukeygara CEO Aurélien Charrier, is a class of software products "too much for the technician, not enough for the artist."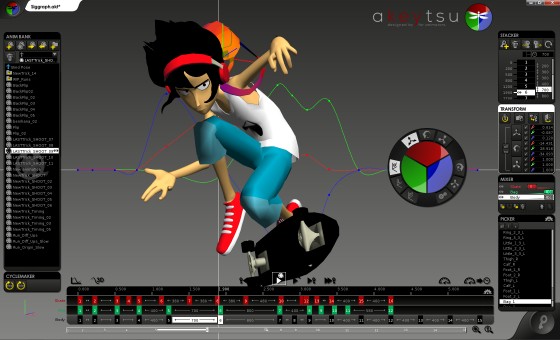 Nukeygara seeks to put the artist back in animation. The French start-up's Akeytsu is a 3D character rigging and animation program that simplifies the process of creating 3D character animation. "We provide only the necessary rigging an animation features," says Charrier, "to put the animator back at the heart of his craft. The time of technicians is over; now should be for the artists. Make the posings, manage the keyframe, that's all."
The free rigging system is at the heart of Akeytsu. Starting from scratch and unencumbered with initial modeling, rigging has been rethought and re-engineered for simplification. Inverse Kinematics (IK) and Forward Kinematics (FK) are blended into a single process of identifying one skeleton, one skinning and the application of what Charrier calls "a few advanced solvers" to animate a model.
The IK state is shown by visual feedback: when the target is red, IK resolution is active and reacts like any standard IK solver. When it isn't, the model is in FK mode but the user can still use the target as a manipulator. Switching between modes is a single mouse click.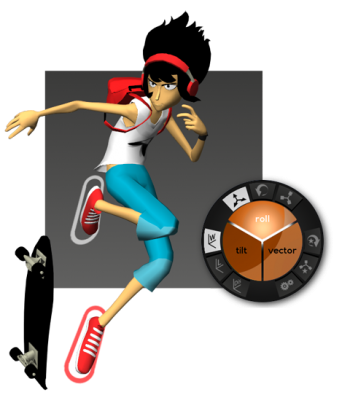 Charrier says their custom solver allows "the most intuitive and fluid IK/FK workflow possible." The IK solver can be removed and plugged back at any time during animation production. Advanced options like "stretch" or "auto-reverse-foot" are built-in. Meshing is integrated with the rigging system; clicking directly on a mesh opens up the needed controls. The corresponding geometry is highlighted to quickly identify the current selection.
Nukeygara claims their software drastically reduces the time it takes to animate a 3D character: scene hierarchy five times shorter, model preparation in "up to two days." Less time to animate also means a lighter model for the computer to process; Charrier says modifications to skeleton, geometry, or skinning can happen "without unbinding anything."
At the heart of Akeytsu is the 2D Spinner, a transformation manipulation interface. Orient the camera once , then use the spinning colored surfaces to manipulate the model.
Nukeygara expects to release Akeytsu 1.0 in October 2014. There will be two versions. The full software will be $680 per year per seat; Akeytsu Nanno (a reduced feature set), will be $200 per year per seat. The software will be Windows only.