Creative Cloud is gaining momentum, there are mobile apps everywhere, and high-end enterprise applications are rolling along nicely.
By Kathleen Maher
[Editor's Note: For more coverage from Adobe Max 2015, see "Fighting for the Creative."]
Fascinating times we're living in. That Internet thing has really blown up into something big, and Adobe has leveraged the web to transform itself. Adobe Max, the company's training event for its customers, has also blown up into something pretty huge. This year, the company said Max broke its attendance record with 7,000 attendees. CEO Shantanu Narayen claims the Creative Cloud is successful, having transitioned much of its user base to the new subscription service over the past four years.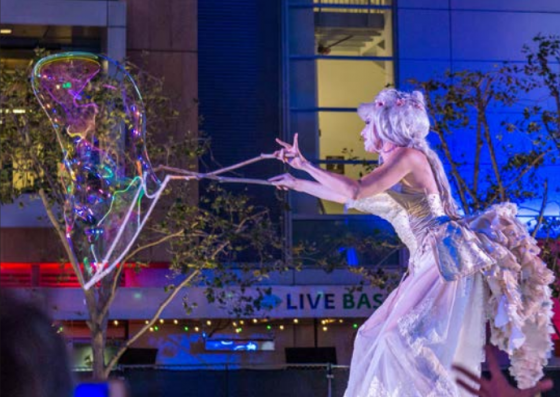 It's not enough that Adobe users work with the Cloud, the company wants their customers to spend all their working time in the Adobe cloud, the better to add incremental increases to their monthly tithe. Adobe has further developed Behance, the company's content sharing site, to turn it into a community of supportive artists and patrons, which will allow recruiting, job referrals, etc. Adobe Stock, the product built from the acquisition of Fotolia, extends the practical side of Adobe's community. Subscribers get access to stock art but they can also submit content for sale. At Max, Adobe gave attendees a free year of Stock to encourage them to use the service.
Adobe told analysts in their financial meeting that the company is back to where it was four years ago when it transitioned to subscriptions, and in fact 20% of the subscriptions they've gotten are new users. It's not enough that Adobe get back its equilibrium, the company needs to see new growth. Narayen says Creative intends to be a single-stop shop for its customers. "You are going to be blown away by what the product teams are working on," he said.
Meet the new boss
Senior VP David Wadhwani announced plans to leave Adobe for a new opportunity to be a CEO at the end of September, a rather alarmingly short amount of time before the kickoff of Adobe Max. He announced his plans personally to people even as they were getting ready for Max. Luckily, Adobe has a deep bench. Bryan Lamkin is an Adobe veteran who worked at the company in a variety of roles until 2008, when he left the company. He worked for Yahoo, participated in a couple of startups, got his CEO stripes at Bagcheck and Clover, and has invested in several companies. He rejoined Adobe in 2013 and headed the document services group. People we talked to said they were happy to see Lamkin in his new role. Also, we were told that while people were surprised at Wadhwani's move, they were happy he was able to make the move to something he's always wanted. From what we can tell, the transition was handled smoothly. Wadhwani was liked, and so is Lamkin.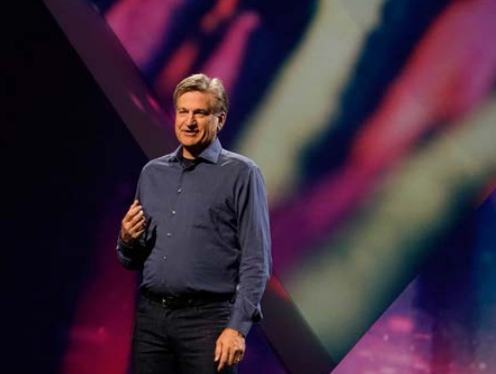 "Design has become paramount," Lamkin told the audience at his first major public appearance in his new role. "We live in a multi-screen world, people expect to interact with content whenever and wherever they are," Lamkin told the audience. They're calling the challenge content velocity, because creative people are struggling to keep up and be creative. For that reason, Adobe is spending considerable effort on its mobile applications. The mobile applications let creative people develop content wherever they are, but it makes sense that they can create content on the same platform that content may be used.
Working together
With this round of products and updates Adobe has been improving the integration of the apps and the fluidity of content and assets so users can share, collaborate, and reach across platforms for fonts, colors, drawings, stock art, and graphic elements whenever and wherever they're needed. All this is a definite work in progress. When the apps were first introduced, they didn't work so well with each other, and they didn't even work so well with more than one targeted desktop app in most cases.
In theory, assets could be shared across platforms, apps, and desktop applications, but in practice it was far from smooth when sometimes content showed up in the Creative Cloud folder when it was explicitly shared, and sometimes automatically shared with Creative Cloud when created or worked with in a mobile app. This is still a bit of a confusing system, and in this round of updates Adobe introduced its Creative Cloud Libraries, which are designed to improve the sharing process and stay up to date with the new Creative Sync.
So, yes, the unofficial theme of this year's Adobe Max is mobility. Mobility of ideas, of content, of assets, of work, but there's still plenty of kinks in the pipeline to be worked out. Company execs frequently repeated the idea that Adobe is not just a desktop software company. An interesting aspect of the work Adobe is doing on the way content flows is that the company is trying to automate as much of the process as possible, and what cannot be automated is made easy. The libraries, for instance, are part of the programs' toolboxes so assets can be easily dragged and dropped. The work is far from done, but people who want to make the system work now have enough tools to have a decent experience. However, it should be admitted, I have more trouble than I should trying to find and use content. I'm just not sure yet whether it's me or the system.
The mobile challenge
At Max, Adobe's product managers demonstrated several mobile apps. They made a point of showing that they had apps that worked on the new iPad Pro, which comes with an optional Pencil. They promised apps for Android, which are still in short supply. They praised the Windows Surface for its pen prowess, and they claimed, "The more apps we use, the more apps we wanted." They're right. There are plenty of very attractive apps—they tend to multiply like rabbits on tablets, phones, and the more we use, the more we might want, but that sure isn't doing much for efficiency. There are many apps; some are useful and practical, some are fun, but thanks to the Creative SDK introduced last year, there are too damn many of them.
The company says Creative SDK is also the tool the company is using to enable cross-app workflows. New and updated tools The company highlighted its new apps before Max at Apple's iPad Pro keynote. At that time, they introduced Adobe Comp CC, Adobe Photoshop Sketch, and Photoshop Fix, all of which are being introduced on the iPad Pro. At Max, they upped the ante with updates for Photoshop Mix, Illustrator Draw, and Premiere Clip. With a nod to the proliferation of point tools for mobile devices, the company has reintroduced Adobe Capture CC, which now combines Brush, Shape, Color, and hue into a single app. Fix is a powerful photo editing and retouching tool for mobile, and it has gotten powerful desktop Photoshop features like the Healing Brush and Liquify. Sketch adds powerful drawing tools to Photoshop's imaging power for mobile. It's balanced by Illustrator Draw, which is a vector drawing tool.
Probably the most important message to take away from all this is that Photoshop is widening the interoperability of the tools. Products used to be released as Photoshop this or Illustrator that, and they were only designed to work with their parent desktop product, but now the company is opening up those lines of communication.
Mixamo becomes Fuse, and the acquisition makes more sense
Probably one of the most important moments at Adobe Max was the company's demo of its newly acquired Mixamo technology, which has now become Adobe Fuse. Mixamo was a small company that enabled 3D character creation and enabled animations with mocap files. It was nice technology, but the company could never get their business model worked out so they could make enough money. The technology also fell a little bit into the gap between professional product and consumer gadget, and 3D applications still have a tough time as consumer products. As a result, Adobe was able to scoop up the company and apply their own vision to the software. When they acquired it early last summer, the company showed the software being used for cute little GIF animations.
They're still showing that usage model, but at Max, they showed the crowd what one could really do with 3D in a 2D world. Fuse can be used to create a character for use in a composition, and then that character can be posed, lit, relit, turned, etc.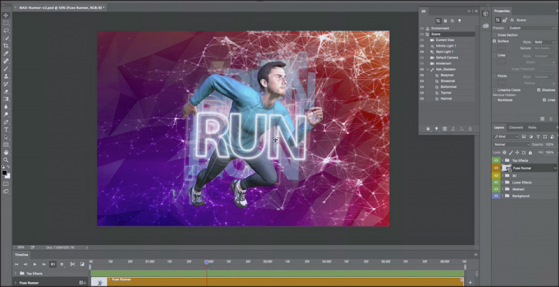 Adobe has been adding 3D support gradually to Photoshop, and at this point, it's really quite competent for developed content for publishing. Content can be imported from other 3D content creation tools, and the company has a strategic partnership with Maxon for that purpose. In addition, there is an increasing amount of free and purchasable 3D content being made available online. So now, characters can be combined with other 3D content. Photoshop now excels at the creation of 3D text. And it all adds up to considerable flexibility for content creators. The audience absolutely loved this capability. Fuse will be available as a Creative Cloud application, meaning it's free for Adobe subscribers.
Adobe publishing
Adobe's publishing tools are an extension of its InDesign desktop publishing app. The company introduced its Digital Publishing Suite to enable the creation of digital magazines for tablets. Adobe's tools enable publishers to better evaluate the successfulness of ad campaigns and let them share analytics with customers. The tools have remained in the province of high-end publishers. The tools include analytics and are part of Adobe's marketing tools.
The company is attempting to broaden its customer base with new products for enterprise customers. The new publishing product enables the creation of something that's more interactive than a magazine, but can be easily published without coding. The company is offering the capability to enterprise customers who want to publish official content such as company employee manuals, product line catalogs, branding manuals, and other company content. The advantage is that instead of the deadly, and ignored, three-ring binders handed out in companies with occasional updates distributed to be inserted into the binders, new content can be pushed out to end users. Brand management can be much easier. And there is an opportunity for increased business to customer engagement with interactive shopping applications.
In the Max classes, students were also shown how to use the online publishing tools to enliven content for web. In this case, the tools are designed to be used by independent content creators. Content put together in InDesign as you might put together a magazine (or this publication) can be published with video and photo slide shows with an easy push button workflow. Or at least that's how it seemed in the class. Those publications are currently being hosted by Adobe through the Creative Cloud, while the online publishing tools are offered as a Preview.
There was no word on what the model might be in the future. Adobe is offering a baseline of analytics for content published in this way. What seemed fascinating to us is that this publishing tool offers content publishers a new medium for expression, and if Adobe chooses to keep some version of it accessible to smaller organizations with more modest resources, it would seem we can expect really interesting content to result.