Power Surfacing gives SolidWorks users free form surfacing tools that translate to NURBS models. The company says models can go back and forth between Sub-D and NURBS modeling approaches without losing their integrity.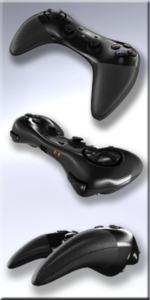 NPower, based in San Diego, has released an update for its SolidWorks add-in Power Surfacing. Power Surfacing extends the modeling tools in SolidWorks to include free form Class A surfaces using Subdivision Surface (Sub-D) modeling into SolidWorks. This latest version supports SolidWorks 2015.
Power Surfacing's ability to work in SolidWorks lets users model a shape as a single unified object and then that shape is converted to SolidWorks with NURBS surfaces. The part can then be edited just as any SolidWorks part using Booleans, fillets, shells, etc. The company says that parts can also be taken back to Power Surfacing for further modification using Sub-D modeling.
The Power Surfacing plug-in can also be used to bring any model created with Sub-D modeling tools such as 3DS Max, Maya, Modo, Z-Brush, etc.,  and convert those models to NURBS for use in SolidWorks. The company says their software creates high quality surfaces, which accurately interpolate the vertices of the original Sub-D mesh. The company's software is used in the automotive and aeronautics industries, for consumer products, architecture, and also in industries where Sub-D-based software tools are more common including game development and entertainment content creation and is used by Disney, Blizzard, and Blur Studios.
The new features in Power Surfacing improve the integration of the plug-in into SolidWorks with support for:
Constraints
Tangential connectivity to NURBS surfaces/solids
Parametric Sub-D
Curvature display/analysis
Level of detail editing
Selection grouping
The ability to combine the sculptural methods enabled by mesh modeling with the NURBS-based tools used in manufacture helps bridge the process of design with manufacture and gives industrial designers, artists, and other creative people the ability to create in the same tool they use to build or make products. Or, if people are more comfortable working with Sub-D tools, they can use those tools to create and then bring their designs into SolidWorks for the "make" process. The software won the Tenlinks Award for best in show at SolidWorks World 2014. Power Surfacing starts at $1495 and more information is available at the company's website.
A little background
Power Surfacing serves an obvious niche in the design world and it has the right customer list to prove the point. In addition to Power Surfacing the company also provides translators for 3D Studio Max, Revit, Inventor, etc. The parent company of nPower is IntegrityWare, which was founded in 1996 by Gary Crocker and Dahjiun Wang. They developed the SOLIDS++ geometric modeling kernel, which forms the basis for the company's products. It is a hybrid modeling system that supports solids, surface and polygonal modeling. IntegrityWare licenses its technology. According to an article by Ralph Grablowski in his upFront ezine, Bentley Systems has used the IntegrityWare software in its surfacing library, and Cheeta3D and MoI are based on the IntegrityWare kernel. The nPower side of the business builds products and plug-ins. IntegrityWare president David Gill joined the company in 2002 from Autodesk. He was one of the founders and managers of the Autodesk Inventor product. He has also worked at GE Calma (which made its way through the great CAD consolidation of the 90s to Prime and ComputerVision). Founder Gary Crocker was also at GE Calma, where he became interested in 3D geometry and he now works as CTO at IntegrityWare. The company's principals are interested in creating software that makes professional tools easier to use by enabling users to work directly with the geometry using more intuitive tools.