The tweaked version of Maya is aimed at indie and mobile game developers. The update also includes new support for HumanIK.
Maya LT is less than six months old, but Autodesk this week released a second update. A rework of Maya designed for indie and mobile game developers, Maya LT Extension 2 adds MEL scripting and other features to the product.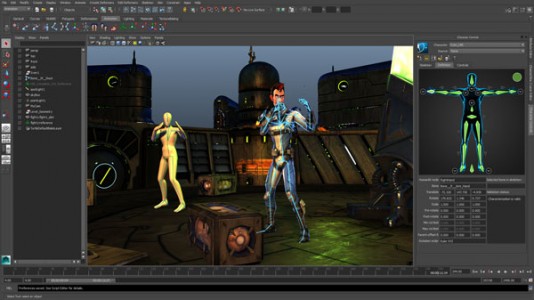 Key new features in Maya LT Extension 2 include:
MEL Scripting to simplify repetitive or complex tasks: A built-in Maya Embedded Language (MEL) script editor removes the need to manually write scripts and displays corresponding commands in MEL script. Scripts can be saved and turned into customized parts of the Maya LT UI through Shelf Buttons, Hotkeys or Marking Menus.
HumanIK and IK Handle Animation: A new IK handle, a Pole Vector constraint, Human IK Mirroring and an animation re-targeting tool are designed to accelerate the animation, rigging and transfer of information between characters.
New Export Options:  Maya LT 3D assets can now be shared in the OBJ file format, expanding compatibility with other software products and game engines.
Game developer Paul Kind used Maya LT for the first time while creating assets for Revolution Ace, an upcoming multiplayer shooter for PC and iOS., "Maya LT offers a great deal to indie game developers at a comfortable price," says Kind. "It is perfect as a strict game tool-set and meets the needs of developers in an easy-to-learn and easy-to-use way. The interface is streamlined, the software is stable, and building assets is simple and efficient."?
Maya LT Extension 2 is now available as a free download to clients on Autodesk subscription or pay-as-you go plans.