At an Investors Day meeting in San Francisco, Autodesk also announced modest layoffs and explained changes in its business model.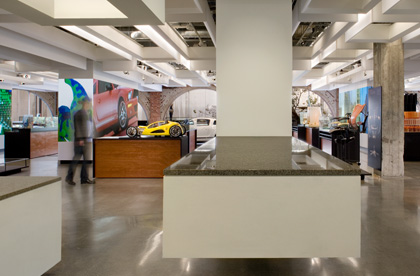 Autodesk today said it would discontinue the ability to purchase software upgrades on February 1, 2015. The move is part of its long-term strategy to move revenue from purchases to subscriptions and rentals.
Autodesk executives discussed the move as part of an Investors Day meeting at the Autodesk Gallery in San Francisco, where the company maintains offices and a display of products created using its software. In addition to a wide-ranging discussion of business, technology, and markets, Autodesk also said it will lay off approximately 100 employees, and close several facilities. Autodesk CEO Carl Bass said the layoffs are about re-balancing staffing, such as lowering the number of employees in under-performing markets like Southern Europe. The layoffs represent about 1.5% of the company's workforce. The facility closures are to eliminate redundancies in locations where acquisitions have led to more than one Autodesk facility in a city or area. Autodesk will record pre-tax restructuring charges of between $15 million and $20 million in the next two quarters; about 80% of that total will be for employee termination benefits.
Multiple transition fronts
Bass and several members of his senior executive team spent four hours with investment analysts, describing the company's plans for the next few years. Bass noted the company has a history of transition, and is proud of how it has adjusted to new markets and new technologies over its 30-year history.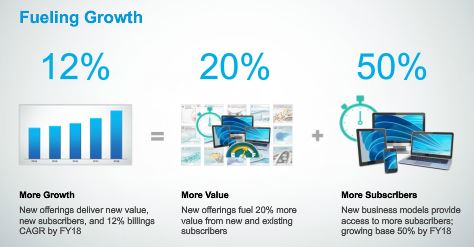 Today's business model is a mix of selling perpetual licenses for single products and suites, with some new subscription services and a small amount of software rental, introduced this fiscal year. The plan is to shift customers away from single product purchases toward suites, and to move from buying perpetual licenses to acquiring software on long-term subscription or short-term rental.
Autodesk now offers six distinctive technologies as cloud-based products, and plans to add many more in the coming quarters. Bass said the company intends to be an industry leader in leveraging the three macro trends driving the software industry today—social, mobile, and cloud. The three were mentioned often throughout the morning's presentations.
Despite single-digit revenue growth in recent quarters, Bass and his team pitched an optimistic analysis of what the company will do in the next four years. By fiscal year 2018 (which ends January 31, 2018) Autodesk intends to reach:
12% compound annual growth rate (CAGR) in billings
20% increase in value received from existing subscribers, by offering new products and services
50% more subscribers, including new initiatives in education and consumer markets
70% of total revenue as recurring.
Autodesk estimates its total addressable market is currently $21 billion, "and we do not have the lion's share," said Bass.
Our take
Among the top vendors in CAD/PLM and related software, Autodesk is the only one in which enterprise sales are not the dominant (or only) market. Autodesk has always more subject to the ups and downs of the economy than rivals like Dassault Systèmes and Siemens PLM, partially because it is a dominant player in construction but also because it is basically a small business/consumer vendor. In years past changes in computer technology were driven by the enterprise market, not the consumer market. The fast rise of mobile, social, and cloud have turned things upside down; as the most consumer-oriented vendor among the big CAD players, Autodesk is now better positioned for growth.