Sees increase in subscriptions and uptake in suites.
Autodesk reported revenue of $551 million for the quarter ending in July '16 (second quarter of fiscal 2017), which represents 10% decline year over year. New model subscription revenue increased 82% year over year to $371 million. Net loss was $98.2 million, which is an improvement year over year; the company reported a loss of $235.5 for the same period last year.
Autodesk has been conditioning investors to the idea that revenue will be down as the company makes its transition to a subscription model because revenue is recognized ratably, in this case month by month, and the monthly price is low. That is in fact the attraction for many customers.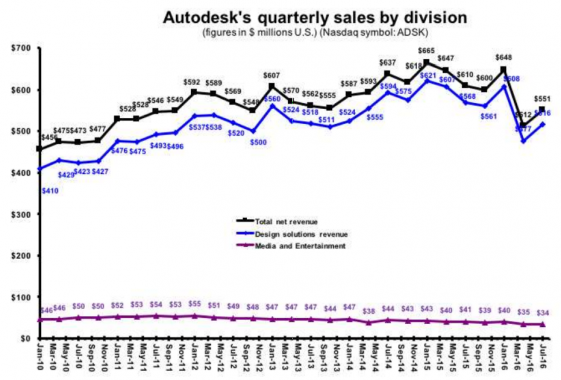 Autodesk CEO Carl Bass told investors the company's transition to subscription revenue continues to proceed as the company has hoped – more or less. Bass reminded investment analysts that it's easier to run a spreadsheet than it is to run a company. The company said revenue was a little higher than they expected, and that was partly because of a last-minute uptick in perpetual license sales of suites as customers took advantage of the waning days of perpetual licenses. It all comes out in the wash. Bass said it was a relief to have finally gotten past perpetual sales and he told investors the company is working to make their financial statements more straightforward. As perpetual licensees are transitioned to subscription, or fall off the radar because they never buy again, the number of active users becomes more clear. Interestingly, Autodesk says they've also seen their largest increase in cloud subscriptions led by BIM 360 and Fusion 360. These are the kinds of products that Autodesk sees as its future.
Autodesk added 109,000 subscribers over the quarter adding up to 2.82 million The company said they're now at 692,000 for new model subscriptions. In addition, deferred revenue increased 23% to from $1.24 billion last year to $1.52 billion for Autodesk's 2nd fiscal quarter of 2017.
Autodesk tells investors to keep an eye on annualized recurring revenue as an indicator of health, and indeed that number has climbed at a healthy clip. It has reached $1.47 billion thanks to a 10% increase year over year. New model ARR was $371 million an 82% increase year over year.
The company has been under pressure from activist investors to keep its costs down, which it has been able to do. Total GAAP spend, including cost of revenue, and operating expenses was flat at $614 million, a mere 1% increase year over year including a charge of $16 million for restructuring and other facility exit costs. The stock market has approved of Autodesk's cost control.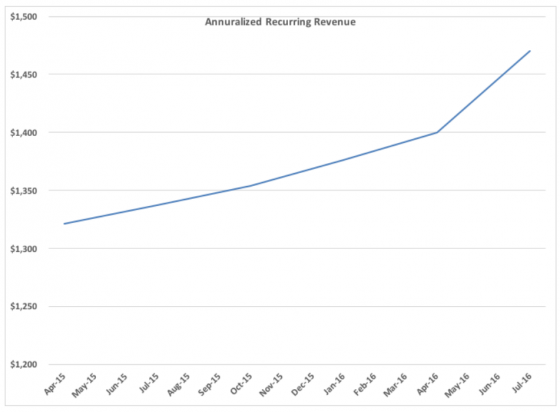 Second quarter operational overview
Chief Financial Officer Stott Herren, commented on the increase in sale of suites and including the boost in perpetual license suites, called it a record volume of product subscription for suites. As a result said Herren, "we remain confident in our long-term goals of growing our subscription base by a 20% CAGR through our fiscal year 2020, which will drive a 24% CAGR in ARR and $6 per share in free cash flow."
Autodesk's AEC business has grown 8% percent year over year to $253, Manufacturing was $177 million a 3 percent increase year over year. Platform Solutions and Emerging Business (PSEB) was down 47% compared to the same period last year to $86 and Media and Entertainment was also down; it dropped 16% year over year compared to the second quarter last year. Autodesk is seeing increased competition to its M&E products, but the sector has not been a growing sector for some time down. More interesting is the Platform and Emerging Business, which is where AutoCAD and AutoCAD LT sales are registered. Bass reminded investors that AutoCAD products are included with just about all suites so it's too easy to read the decline in PSEB as an overall decline in sales of AutoCAD and AutoCAD LT, however we do believe use of AutoCAD is declining as users adopt more advanced modeling tools and competitors offer lower cost and free drafting tools. It's hard to tell because as Bass says, AutoCAD does remain a standard in design houses for producing and maintaining drawings.
Bass told investors that Autodesk is planning to revamp its pricing structure for AutoCAD and AutoCAD LT, to encourage more customers to move up to AutoCAD and entice, low end customers to commit to AutoCAD LT.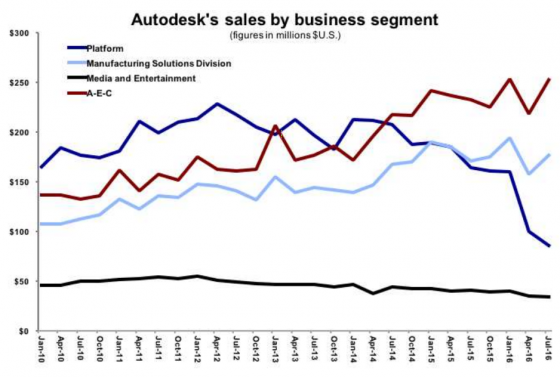 For the coming quarter Autodesk says they expect to see revenue for the quarter to come in at $470-$485.
What do we think?
It seems inevitable that products people need to use for their jobs, are going to be sold on subscription. It makes sense for companies which get a much clearer idea of their expenses and for individuals who may not need a software if they're not doing that sort of job again. Obviously companies make more money in the long run, as people pay and keep paying, but as long as it continues to pay for itself in productivity, that's not an issues. The challenge for Autodesk and its competitors is to respond to their customers' changing requirements. Autodesk believes it is doing so with its 360 products. One aspect that has not been remarked on much, is Autodesk's revelation in this call that the increase in suite licenses came through vendors and also that many of the new model subscriptions have come from new customers. Vendors do not seem to be being disenfranchised as some have featred, and customers are attracted to the lower point of entry with subscriptions. The company's biggest problem now is to convince customers culturally adverse to subscription including Japanese customers to embrace subscription. In the meantime, Dassault, PTC, Solidworks are all jockeying to court subscription-adverse customers to their products.