Latest updates on Autodesk's cloud-based development platform for 3rd party tools.
Before the official kickoff of Autodesk University, AU invited developers to hear the latest updates on Forge, Autodesk's cloud-based development platform for 3rd party tools. Jim Quanci, who has long played the role of the developer's friend at Autodesk, now heads the Forge effort. He told the audience that now, 18 months after launch, signups for Forge have surpassed 1000 monthly subscribers and 100s of apps have been built. Quanci took pains to remind us the numbers are pretty good for a developer platform and it is. The weird world of CAD add-ons is pretty specific, and Fusion is pretty new. There's plenty of room for growth considering how many users Autodesk touches overall.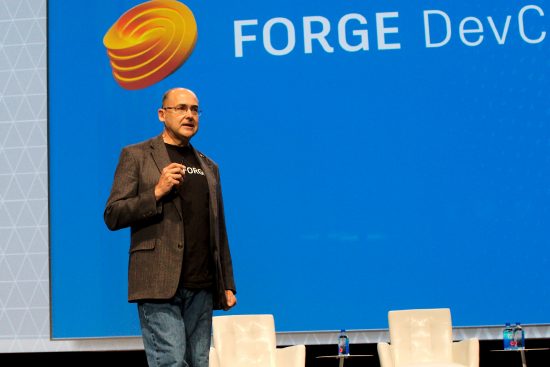 To further kickstart Forge, Autodesk has lowered the price. It's free to sign-up and packages start at $100 for 100 credits. Previously developers signed on at $500.
Autodesk invited Duleesha Kulasooriya from Deloitte to describe the trend and challenges for developers and as we settled in for the usual discussion of the cloud, collaboration, sustainability, Kulasooriya took us to China where the factories of China churn out knockoffs and innovation simultaneously. He told the audience to be careful about dismissing China's products as imitation and recognize that they're building customized products for niche markets and exploiting opportunities missed by others. People want personalized and customized products, and what might have seemed a niche could be a trend. Kulasooriya and his colleagues at Deloitte have published a report that claims the approaches being used in China could well show the way forward for world manufacturing.
That's what Forge has been designed to do: enable the fast, nimble customization that Shenzhen's insta-factories have excelled in. Kulasooriya also talked about the University of Louisville FirstBuild program backed by GE which brings the Shenzhen micro-factory strategy to the U.S. In the U.S. it can typically take four years to design a product, get it built, and set up distribution. This, says Kulasooriya takes too long. The goal of the FirstBuild team is to produce 12 products a year.
FirstBuild is a co-working space and community with resources for design, engineering, and manufacture. People can suggest projects and the community kicks it around and decides what might be viable. They put it out to the community and see who will commit to buying the product, and then they make it on a small scale. However, if the idea is a winner, then GE has a shot at taking it on for a larger run and major distribution. FirstBuild and Autodesk Forge are natural allies on this front. As we have talked about, GE is committed to changing manufacture in the U.S. (See President Obama unveils initiatives for renewed growth of manufacturing jobs in the U.S., GE launches crowdsourcing design challenges with $130,000 jackpot.)
Autodesk's Forge project takes the company back to its roots. Autodesk's flagship product AutoCAD was designed as a bare bones platform product on which customers could customize with a simple programming language like LISP or with C++. It was sold by an army of VARs many of whom made their profits through customizing AutoCAD and providing services. That philosophy has stayed with Autodesk even as it acquired some of those companies building add-ons, and its products became ever more complex with specialized features for different industries.
Forge is a reboot for Autodesk. Also used as part of the company's internal development toolset, Forge is the result of Autodesk's ongoing effort to modularize its products and technology to enable it to offer capabilities to third party developers.
Autodesk brings in the world
One of the key tenets of the new Autodesk is that no company can afford to isolate itself. The company has been adding support for more formats including competitor formats. Forge supports up to 60 formats and the company is enabling interconnectivity across its products. In the summer, Autodesk beefed up Inventor and has created AnyCAD to support for native SolidWorks files including associativity. The company plans to add support for PTC Creo, NX, and non-native exchange formats like IGES and STEP. At AU, Autodesk said the AnyCAD capability is also being extended to Fusion.
In another example of broad industry support, Forge has adopted industry standard WebHooks. WebHooks is part of the Internet HTTP communications protocol to enable callbacks inside of Fusion apps.
A few eyebrows were raised when DropBox took the stage to announce that DropBox will be enabled in Autodesk's core drafting product AutoCAD through Forge but DropBox's head of global business development said that over 1.5 billion DWG documents are already stored on DropBox and 35 DWG files are added per second. Many CAD managers and IT professionals are not happy about ad hoc cloud-based resources like DropBox, but it's obvious that CAD users are taking advantage of those resources anyway.
Through their work with Fusion, DropBox has enabled a 'save to DropBox' button in AutoCAD and the company is taking advantage of the WebGL base viewer API in Fusion to enable a viewer for AutoCAD files letting anyone in the organization view DWG files whether they have AutoCAD or not.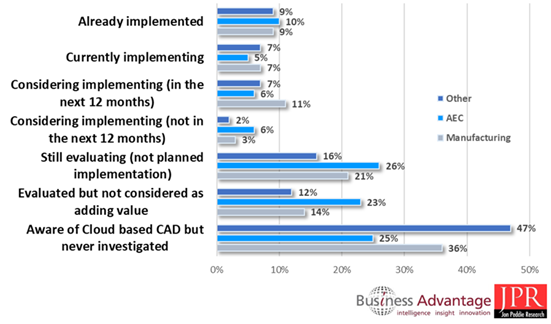 Forge Funding
Autodesk founded the Forge Fund, in 2015, with the introduction of Forge. Autodesk University showcased several companies working with Forge including a company coincidentally named LimbForge. The company's founder Andreas Bastian recognized that there are many societies where people have little hope of getting prosthetics and worse, where people with disabilities are shunned. LimbForge has built a simple tool on Inventor that enables its volunteer force of technicians to input patient measurements and choose colors to create low-cost prosthetic. The prosthetics can be printed with low-cost printers like the Ultimaker.
At Autodesk University, the company announced a $12 million investment in Assemble Systems which is a extensive document management system, which takes advantage of BIM 360 to make all project-related information including documents, BIM models, drawings and point clouds, accessible in the cloud.
In their announcement, Autodesk underlined that this investment is the third in the Boston area and their fourth investment in construction startups in the last four months. Autodesk's investment in Assemble will enable the company to expand its operations worldwide, to grow its staff, and to move its offices closer to Autodesk's offices in the Seaport district.
The other recent Forge Fund investments in "industrialized construction" are SmartVid.io, ManufactOn and Project Frog. The term industrialized construction is used to describe the ongoing advancement of technology into construction as the field adopts digital tools for connectivity and collaboration and adapts practices from manufacturing for use in construction. The Forge Fund is especially interested in companies doing this work because Autodesk sees their future in riding the wave of industrialization sweeping the AEC industry.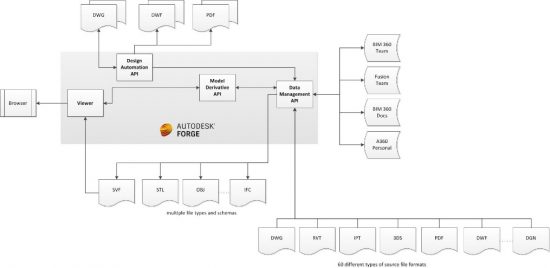 What do we think?
The philosophy of Forge is not really that different for Autodesk. The company knows that it has thrived on the contributions of its developer community. In the past, it was possible to think of Autodesk's tools and its community of developers building add-ons, as a closed ecosystem. Developers depended on access to Autodesk's formats, tools, and goodwill.
That approach will no longer work as the design fields grow into every aspect of conceptualization, planning, permitting, build/manufacture, deployment, and service. Closed ecosystems can't work, the companies are increasingly becoming bound to each other in a universe of overlapping capabilities. The winners of tomorrow will be the companies with the most partners reaching out to the widest range of customers.