Company president Sean Dotson won the CAD Society Community Award in 2007.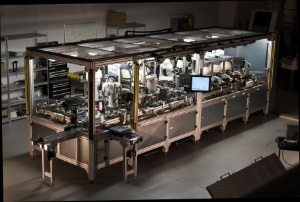 RND Automation & Engineering of Sarasota, Florida, has been named Autodesk Inventor of the Year for 2010. The award was the result of voting by other users of Autodesk Inventor through the Autodesk Manufacturing Community.
Sean Dotson, president of RND, was the 2007 winner of the CAD Society Joe Greco Community Award, for his work on a variety of online technology forums.
RND Automation & Engineering designs customized automation solutions for a wide range of customers, including manufacturers of hydraulic valves, contact lenses and insulated beverage containers. Autodesk originally named RND as Inventor of the Month in March 2010 for its use of Autodesk software to help manufacture and assemble products more efficiently and with less waste.
"My relationship with Autodesk goes back more than 13 years to the first days of Inventor Release 1," says Dotson. "It's quite an honor to receive this award and to be recognized for our work."
With the assistance of Tampa-based Autodesk reseller Tata Technologies, RND has successfully used Autodesk Inventor software since its first release on a wide range of projects, tapping almost every area of the software's functionality in the process:
For a hydraulic valve manufacturer, RND created an automated assembly machine that was 22 feet long and eight feet wide, with 16 assembly stations and four articulated robot arms. RND designed, visualized and simulated the entire machine using Inventor, enabling them to fully analyze operation of each assembly station, all before any materials were purchased.
To create a machine that manufactures disposable contact lenses, RND needed a design mechanism capable of rapidly raising and lowering heavy weights. RND used the finite element analysis (FEA) functionality in Inventor to analyze the forces placed on the linkages to help ensure the overall design was strong enough to withstand the pressures of daily operation.
RND is also using Digital Prototyping to help Tervis Tumbler, the leading manufacturer of insulated beverage containers for hot and cold drinks. RND used Inventor software's animation capabilities early in the design phase to show Tervis how each assembly station would function and at what precise location the fully assembled product would exit the machine.
There's an interview with RND Automation's Dotson on the Autodesk YouTube Channel.