Autodesk is introducing a three-pronged Forge program to foster a developer network for cloud products and services starting with Fusion 360. The company sees Forge as an accelerant for the company's transition to the cloud. 
One of the major announcements from this year's Autodesk University was the recommitment of the company's future in the cloud. On the first day of the conference, the company announced Forge, the company's extensive program to build a cloud-connected platform to enable the next generation of "making things."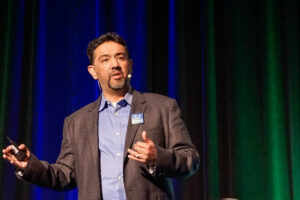 If it works out like Autodesk hopes, Forge is a reboot for Autodesk and a little bit of a return to its roots. The effort has three components:
Platform as a Service (PaaS) – Autodesk will build tools that help others extend its portfolio of cloud products and for developers to enable the creation of apps, services, and experiences for customers.
Developer Program – As in the days of old, Autodesk plans to nurture a developer network with training, resources, and support. In addition, the company announced a dedicated conference. (The first one will be in June, 2016 in San Francisco).
Investment – Autodesk's commitment to Forge is backed up by a $100 million investment fund.
This is sort of a gap year AU, there didn't seem to be any big announcements. The subscription program is churning along and still needs a couple of years to work its way through the system, and Autodesk is dealing with some fundamental changes that are happening in the way design is created, communicated, and realized.
Hanspal, as Autodesk's SVP Products, is heading the Forge effort. He says the first step for Autodesk will be to develop APIs for all of Autodesk's 360 products in the cloud to empower partners. In his prepared statement he said, "We are inviting innovators to take advantage of Autodesk's cloud platform to build services that turn today's disconnected technologies into highly connected, personalized experiences."
In a later, follow-up talk with press and analysts Carl Bass agreed with an analyst who suggested the company is getting back to their roots. The Autodesk of old was built with the help of a strong dealer network and a creative third party network that extended the core AutoCAD into new markets with add-ons. This is something of the same idea.
Autodesk announced a separate level of Forge participation through a partner program "for highly motivated innovators." The list of early partners includes BriteHub, Proto Labs, FATHOM, 100kGarages, MakeTime and HWTrek. What these first partners have in common is that they work with Fusion 360 and offer integrated connections to manufacturers, supply chain providers, analysis, 3D printing resources, machining, etc.
More information is available at www.forge.autodesk.com.
So, what about that strong dealer network that has brought Autodesk to where it is today? As the company moves to the cloud and subscription, effectively cutting out a couple of layers of VAR services, Carl Bass repeated his exhortation to the network to up the level of services that it offers. During a conversation with the press he talked about Autodesk's early days in which the VARs were often third-party developers as well, matching up customers in a particular field with custom made tools for Autodesk platform products AutoCAD and, later, AutoCAD LT. Bass suggested that improving Autodesk's products in the cloud as an obvious path for activist VARs.