Still, investors get nervous on news of restructuring and layoffs.
Autodesk has reported consistent results with increased revenue year over year and steady transition to subscription. The company has also announced a restructuring plan which will result in a loss of 1,000 people. This is certainly bad news for Marin County, home of many Autodesk employees but not necessarily bad news for the company. Autodesk has a new CEO and it's not unusual for a new CEO to do some restructuring and housekeeping. This, and the fact that the company is transitioning its business model makes the layoffs, though large, seem reasonable.  Nevertheless, some Autodesk investors have lost their nerve and the stock has dropped. It's worth noting, however, that most analysts are staying on board. We'll talk about all that later.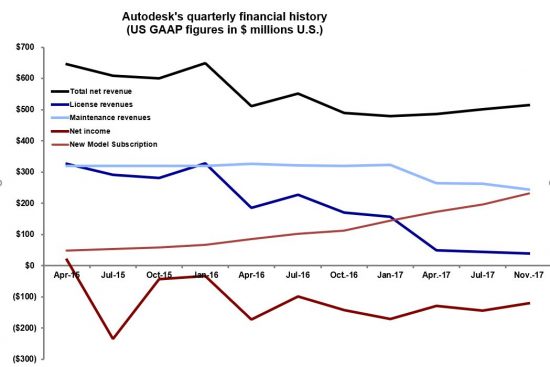 Let's get to the details. Autodesk, bless them, chooses to drown investors with data, so there's plenty to talk about.
Top line, the company reported revenues of $513.3 million. That's a 3% increase sequentially, and 7% rise year over year. Not huge, but it's the right direction. The company reported a loss of $100 million compared to a loss of $107 million during the same quarter last year also a move in the right direction.
Subscriptions have gone up. Autodesk reported an increase in annualized recurring revenue of $924 million, an increase of 106%. That brings them to total ARR of $1.9 billion. Recurring revenue is now at 92% of Autodesk's revenue. In his call to investors, Autodesk CEO Andrew Anagnost says that approximately a third of the eligible customers have chosen to migrate their maintenance plans to subscription. Autodesk added 307,000 subscriptions from the quarter ending July '17 to this quarter ending October '17, bringing the total subscription number to 1.9 million. New subscribers represented 30% of the mix. In addition, Autodesk is having luck converting legacy users, those people with an old perpetual license of an Autodesk product to subscriptions. Furthermore, at least some of those people are adding suite subscriptions.
Autodesk also reported an increase in deals over $1 million and says they've signed two of the largest deals in their history for this quarter. These large deals mostly fall into Autodesk's EBA (Enterprise Business Agreement) program. Autodesk's EBA customers have access to all of Autodesk's tools and they pay for what they use. The two largest deals, says Anagnost, are engineering companies that already had sizable contracts with Autodesk and upped their commitment by as much as 50%.
So, with this financial announcement:
Autodesk has completed its first year of subscription only sales, and the company reported its first year over year increase in revenue since the transition to subscription.
Recurring revenue has reached 92%.
Maintenance plan declines are just about being replaced by gains in subscriptions including new product subscriptions. (See chart.)
Total subscriptions including maintenance are at 3.6 million.
The company has kept its expenses down and has decreased its losses.
Andrew Anagnost told investors the company is entering the growth period of the transition. In the prepared remarks, he says, "As we enter the growth phase of our model transition, we need to re-balance investments to focus on our strategic priorities. This includes divesting from some areas and increasing our investment in others.  We're taking this restructuring action from a position of strength." One of Anagnost's priorities is to better "digitize" the company meaning the restructuring will include some revamping of the sales channel to place emphasis on a more direct relationship between Autodesk and their customers.
Revenue in the Americas was $215 million, an increase of 1% compared to the third quarter last year. Revenue in EMEA was $205 million, an increase of 8% compared to the third quarter last year as reported, and 10% on a constant currency basis. Revenue in APAC was $95 million, an increase of 12% compared to the third quarter last year as reported, and 10% on a constant currency basis.
So why is Autodesk's stock down?
With 92% of its customers on subscription, Autodesk is reaching its return point. Does it just keep moving along or does it keep growing? Many investors seem to have drawn a negative conclusion from the company's announcement of plans to restructure. In addition, on the financial call, some analysts asked about Autodesk's continuing negative cashflow. The company has had a long period of decreased revenues and an even longer period of negative income. Autodesk CFT Scott Herron, said on the call, that the current state of Autodesk's cash flow fits his models, and he notes that in his presentation at the last Autodesk Investor day 2018 marks the trough. He predicted improvement in 2019, but his might not have been soon enough for some investors.
Restructuring is a fact of life for public companies. What's more important is that Autodesk is restructuring to go after the big fish in construction, an area its competitor Bentley Systems has succeeding in and Autodesk has been inexplicably slow to take advantage of even though it holds an important card in its Revit product and community. Actually, the company's future looks pretty bright with its success in converting its base to subscriptions and a steady increase in its new businesses. The company has reported growth in big deals, and those big deals will make a difference.