Adobe and Avid are trying to win market share as Apple seems to be aiming for a more general consumer audience.
By Kathleen Maher
Adobe and Avid have announced new price programs to entice professional users. Adobe is inviting people using Apple Final Cut Pro or Avid Media Composer to switch to Adobe Creative Suite CS 5.5. Adobe is offering those targeted users a 50% discount on Adobe Creative Suite CS5.5 Production Premium or Adobe Premiere Pro CS5.5. Avid, similarly, has cut the price of its Media Composer 5.5 for Final Cut Pro users to $995 from a price that can be as high as $2500.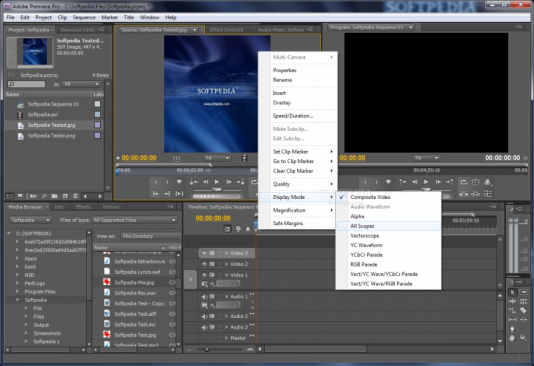 This news might seem fairly minor if you didn't know there is big drama going on in the professional ranks of video editors. Big Drama, Jersey Shore style. As experienced Final Cut users get their hands on the newest version of Final Cut Pro, they have responded with point-by-point complaints about what they do not like about the new version. This is nothing like the peeved responses of users who can't find their favorite commands in a new interface, though there is some of that. No, this is furious outrage by some professional users who believe they have been betrayed by Apple with a new version of their major work tool. The new version doesn't accept files from previous versions and users say FCP X has been stripped of powerful features in order to appeal to amateurs.
Any writer crazy enough to take this issue on is getting inundated by post after post from video users disappointed by the new release. It doesn't even matter what the writer originally wrote, if it's perceived as pro-Apple, watch out. Even late night talk show host Conan O'Brian used the controversy for a cute video attacking the new release.
New York Times tech reporter David Pogue was naive enough to take on the issue recently after he gave the new release a positive review. He was excoriated by disappointed users. Then, because Pogue is apparently one of the few humans walking this earth who can get an audience with Apple employees, he took his questions to the Final Cut development team. They answered the biggest user complaints point by point.
Apple's answers hardly satisfied the professionals. The video community, fired off their own responses, in detail with patient explanations about why they want what they want. It's been very informative and it's almost as if we were seeing a reverse-replay from the past when any negative story about Apple was met by a furious onslaught of mail defending Apple. This time the it's the Apple faithful who are doing the onslaughting and the Apple true believers are a small voice.
Opportunity is banging on the damn door
The opportunity for Adobe is real. Both products, Final Cut Pro X and Adobe Premiere Pro are brand new. They were launched at the National Association of Broadcasters Show in Las Vegas in April. The company is also pitching Adobe suite and point product to customers with special discounts. Likewise Avid is promoting Media Composer 5.5 with features such as support for third-party video boards, support for professional camera formats, improved content management tools including an improved Find tool and the PhraseFind option, transition editing from within the timeline, and more. The main point about Avid's software is that it has been a standard in studios and was the most hard hit by the professional features in Final Cut Pro 7. Now the company is hoping to get a little of its own back.
Adobe's 5.5 is significant. With 5.5 Premiere Pro has improved the interoperability with other editing products such as Avid and Final Cut Pro. Adobe has added the ability to customize shortcuts and has added new trimming and editing tools. It has improved the workflow with its sound editing software, Audition, and it has continued to improve Adobe Story, tools for adding metadata from scripts and voice recognition. A major theme for the entire .5 release of CS is multi-screen editing, the ability to create content for phones, tablets, TVs, PCs, online, etc. And Adobe is steadily adding more services for the cloud.
Addressing Apple users directly, Adobe says it supports Apple's multicore systems and Thunderbolt, the high speed, 10 gbps I/O. In addition, Adobe has added Final Cut Pro project import to allow seamless interaction between people working on Final Cut and those working on Adobe's products. In addition, Adobe says it has enhanced interoperability with keyboard shortcuts familiar to Avid and Apple users.
What are Apple users so sore about?
Meanwhile, back at Apple. It's true that the new release of Final Cut Pro X has disappointed many professional users. They were promised an "awesome" release by no less an authority than Steve Jobs himself in one of his succinct email communications to one lucky respondent. Also, they expected an awesome release because the last two releases seemed half-hearted, mere placeholders.
Apparently Apple's Final Cut developers, led by Randy Ubillos, were busily reworking Final Cut from top to bottom. Unfortunately, some users aren't so happy with all their hard work. The emphasis has been on streamlining the workflow, eliminating complexity, and making the product more accessible to mainstream users. The price has been reduced and is an attractive $299. What's been left out? Multi-cam support is missing but Apple swears that support for multiple cameras to enable smooth switching between camera angles is coming in an update. Users complain that exchanging files has been complicated and they aren't happy about Apple's file management. (Does any professional like Apple's file management which hides the file location as the default? Apple's relational file management makes it easy to find files from within Apple applications but hell to find in file directories.) In this case, Apple has enabled overrides to its file management, but users aren't happy about having to make the decision.
There's more and we've included links below where video experts debate the points like monks debating the Trinity. The biggest problem is that Apple has introduced a discontinuity. Content created in FCP 7, the last update to the software before this X version, cannot be easily imported into FCP X. Somewhat high-handed, Ubillos said in an interview that professionals would not upgrade to new software in the middle of a project so the team didn't worry about compatibility. You can imagine how well this has gone over with professional users who have extensive libraries of content in Final Cut Pro.
One of the more interesting stories to come out of all this was that Ubillos, lead architect for Apple's video products (and an original developer of Adobe Premier), originally planned a product called "First Cut." Ubillos had the idea after coming home from vacation and finding that organizing footage and putting together a rough cut required more work than he wanted to put into those first stages. However, the ideas for "First Cut" went into iMovie 8, which was similarly met with outrage from some veteran users of iMovie.
Apple's defenders say this will all blow over just as the anger over iMovie 8 has disappeared. The question is after all this, is this a blip? Will Apple's pros settle down and learn to live with the new software, especially if, as Apple says, it will evolve and improve? Or will they flock to Adobe and Avid? Al Mooney, Product Manager at Adobe Systems, says in an interview with the Loop that people have been switching all along. The current program just makes it more attractive with price cuts. Mooney says the video market is growing with new users but that Adobe is enticing some users from Apple and Avid already. Apple, on the other hand, really likes the mainstream and they are offering powerful software to Apple users at a price point well below that of Adobe. The fastest growing part of the video market is in the lower end and the mid-range where people are learning to edit video for distribution online.
Maybe it's worth looking at the situation from the other side. Is Adobe firing up the switchers program to improve the math and move more of the mainstream up to advance editing? With Avid, there is less of a question. The company believes their real market is professionals.
The discussion
Some of the discussion looks like this:
MacRumors has the story about Ubillos' fateful vacation.
ComputerWorld's Jonny Evans provides an Apple-centric view. Considering his column is called Apple Holic don't expect much critical evaluation here. It's another view.
This article at Loop Insight includes comments from Adobe's Al Mooney—and the comments from Mooney are revealing.
What do we think?
Adobe has the big 'mo when it comes to professional video editing products. The competition for the desktop editing market is strongest between Adobe, Avid, and Apple. Autodesk is making a serious push from the high end down. Avid is fighting hard to regain market share, but Adobe has a very solid lineup of products that covers the small-house independent movie makers. This is obviously, right where Apple has grown its market in the past. Apple' latest packages of Final Cut seem to address a much broader mainstream market and there is an attractive price point attached.
Apple may well grow its installed base with low-priced products, and at the moment, it's growing at the expense of its professional market. For Apple, all this might not be much of a point. In the grand scheme of things, the company could well be much happier selling more products to more people than cultivating the smaller class of users who demand professional features that are expensive to develop and support.
Along with the complaints about the professional software, some customers are also complaining about the relative lack of high end Macs for professional applications. Apple's vision seems to be clearer along the trajectory of devices and apps capable of working in the field—the new Mac Air for instance. As far as any one can tell from the outside, there's not much that looks like a workstation in Apple's coming products.