It may be about relying less on Google, but Apple isn't the only company building a GIS portfolio.
Build or buy? Apple has opted for building and buying many technologies around its iOS environment and certainly one point of vulnerability is maps. Apple has famously fallen in and out with Google; it has been obvious that Apple does not want to be in the position of needing technology from Google.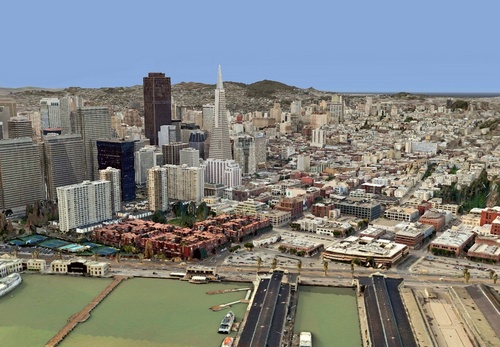 After a few months of mystery, it's been revealed that Apple has added an important piece of the puzzle to its portfolio of products for mapping with the acquisition of C3 Technologies, a mapping company based in Sweden. C3 announced in July that it had been bought in a deal reported to be worth $1 billion. At the time the purchaser was anonymous; not anymore.
Apple has been building a technology base in mapping. It acquired Placebase in 2009 which gave Apple the ability to layer information in maps via Placebase's Pushpin technology. It then acquired the Canadian firm Poly9 in 2010. Both companies specialize in extending map information with data and visualization. Now comes the C3 deal, which adds 3D visualization to the mix. The technology developed by C3 includes taking advantage of photogrammetric technology to generate 3D maps. The company started as a Saab research venture, spun out to commercialize the technology.
C3 says it can generate models with very little human intervention. Specially equipped planes capture ground imagery using DLSR cameras mounted at compass points and different angles, capturing images of buildings and geographic features from the side as well as from above. Images are partially overlapped to give the technology additional information to create the 3D model. The resulting maps are 360 degrees and explorable.
C3 was a star at CES 2011 and it was featured at Pat Meier's Luncheon where Jon Peddie had a chat with the CEO. He was told the C3's technology uses five cameras and takes 22 MP images from an altitude of 600m, giving a resolution of 10 cm per pixel in the spot on earth closest to the plane's position.
The company was selling their technology as a software development kit for $1,000.  In the past C3 licensed 3D maps of a few cities including London, Barcelona, Stockholm, Copenhagen, Oslo, Boston, Miami, and San Francisco.
Along with these acquisitions came the talent behind the technology. The C3 team has stayed in place, including executives Mattias Astrom, Kjell Cederstrand, and Ludvig Emgard in the lead.
What do we think?
Apple has re-upped with Google for its mapping technology, but it seems likely it's going to put all this really interesting technology to work. With these acquisitions, Apple is expanding into GIS. It's not just the model, it's also the information around the model. There are many more developments to come from this direction.
Earlier this year, GIS giant ESRI beefed up its 3D portfolio with the acquisition of Procedural, a Swiss company, which has developed tools to generate 3D cities. Autodesk has had a deep portfolio of photogrammetric technologies, which came to the company with its acquisition of RealViz. Autodesk has created a packaged product with ImageModeler that's being used in its architectural line of products. Finally, there is Hexagon Metrology, which seemingly appeared like Godzilla on the horizon. Hexagon acquired Intergraph, a company with deep penetration in the GIS market, LIDAR technology, and plant design and management tools. Before Intergraph, Hexagon was busy acquiring Leica for scanning, Trimble for GPS and GIS, ERDAS for GIS.
It's all part of integrating the real world with the digital world—a major theme for 2012 and there are big players poised around this new frontier. To get back to Apple, let's go ahead and state the obvious. The beauty of Apple's iOS universe is that the company doesn't have to go to war, it can just be better when it's ready. It can continue to make Google Maps available on its phone but if it decides to blow Google out of the water with a GIS application that can show you the way to your next appointment and help target a drone hit, no one will miss Google Maps on iOS if it goes away.