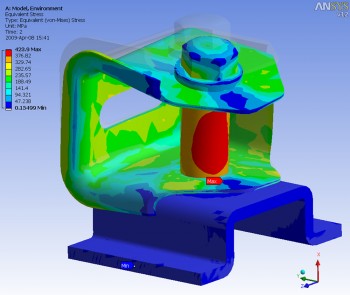 The leader in engineering simulation bought back 988,000 shares of its stock during the quarter. Revenue guidance for the year is increased.
Ansys (Nasdaq: ANSS) today reports revenue growth of 10.5% in the second quarter, compared with a year earlier. Net income increased by 11%. In constant currency, second quarter revenue growth was in double digits in all three major geographies, as well as in perpetual licenses, maintenance and services.
Total revenue for the second quarter (ending June 30, 2013) was $214.9 million, a second-quarter record and the second-highest quarter in company history.  Acquisitions contributed approximately $1 million; subtracting that still give Ansys double-digit percentage growth for the quarter. Historically the second quarter is the second-best of the year; this year the second quarter was exceptionally strong.  Paid-up licenses grew to 28% of revenue from 23% in 1Q13.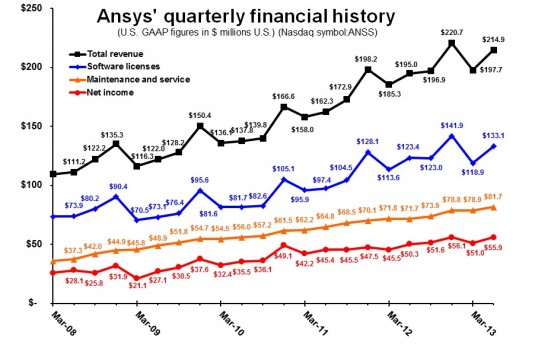 Breaking down revenue further:
Software license revenue was $133 million, up 7.9% from 2Q12;
Maintenance and service revenue was $ 81.7 million, up 14% from 2Q12.
Despite the good report, Ansys CEO Jim Cashman sees an uneven marketplace: "Consistent with today's general market dynamics and what other enterprise software companies are reporting, we also continued to see mixed sales results globally, particularly in pockets of Europe and the Asia-Pacific region where the uncertain macro-economy has an impact on investment patterns, in spite of positive customer sentiments."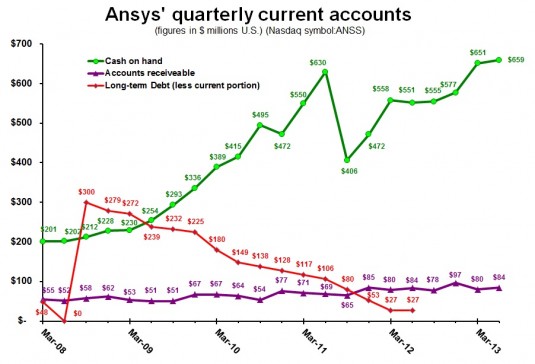 Net income for the quarter was $55.9 million, up 11% from 2Q12.
Revenue by regions:
North America, $78.2 million, up 12.4%;
Europe, $71.9 million, up 15.6%;
Rest of world, $64.7 million, up 12%.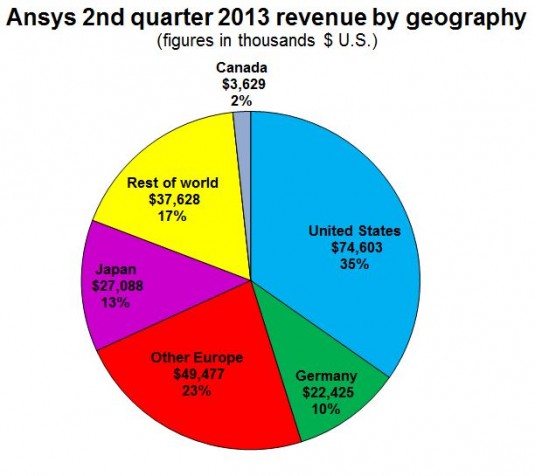 During the quarter Ansys picked up the pace on its stock buy-back program, Repurchasing 988,000 shares at an average price of $74.35.
Ansys raised its guidance on the third quarter and all of 2013. It now expects third quarter revenue in the range of $209.2 – $215.2 million, and full year 2013 revenue in the range of $855.4 – $870.4 million.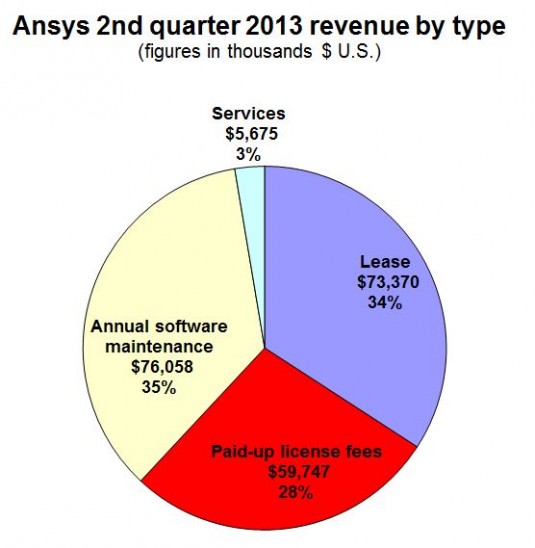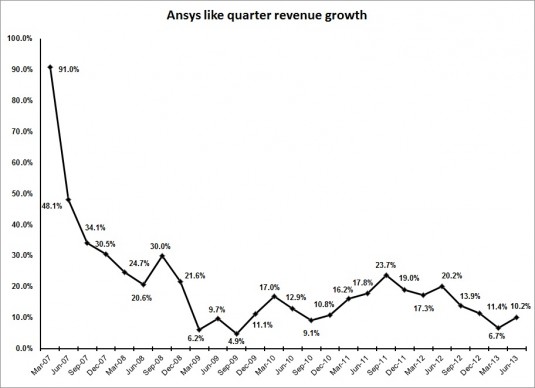 L. Stephen Wolfe, P.E., a contributing analyst for Jon Peddie Research, provided research for this report.
Larger versions of these charts are available at our Facebook page: www.facebook.com/GfxSpeak