More than 100 updates in the latest version, available in AEC, landscaping and stage design editions.  
The 2016 edition of  Vectorworks features new technology for real-time collaboration and support for point cloud data from 3D terrestrial scanners among the more than 100 updates and new features. The company says more than 70% of new features are the result of customer feedback.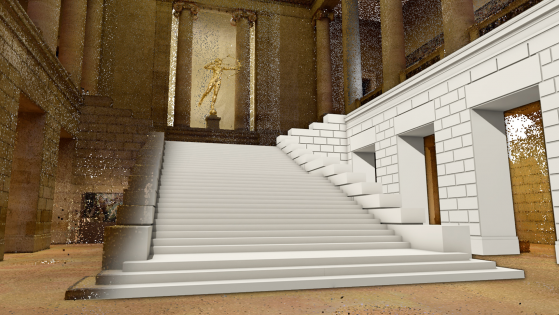 The announcement marks the beginning of Vectorworks 2016's worldwide rollout in English; localized versions in nine additional languages will release over the next few months. Among the tools and features in this release:
Project Sharing

is an new way for teams to communicate and collaborate while working concurrently on the same Vectorworks design file.

Subdivision Modeling

(Sub-D) allows designers to transform primitive shapes like spheres and cubes into any form imaginable.

Marionette

is the first and only cross-platform, Python-based graphical scripting tool in the AEC, landscape and entertainment industries. Designers can create visual scripts that take advantage of Vectorworks software's 2D and 3D modeling capabilities, integrating the results into BIM models.

Energos

is a new energy performance evaluation tool, based on the Passivhaus calculation method.

Point cloud support

allows designers using their preferred 3D scanning device to capture a physical location and import a 3D point cloud object into Vectorworks software to manipulate and measure.

Roof components and styles

will interact with wall components ensure accuracy in the documentation of sections and elevations. Roof faces and roof objects now have the same component representation as walls and slabs.

Landmark site modifier and hardscape tool improvements

help landscape professionals and urban planners design more efficiently in pavements and walkways, including sloping hardscapes.

Spotlight improvements for entertainment stage design

improve workflow in overhead stage rigging.

Renderworks new features

include an upgraded MAXON Cinema 4D render engine; caustic capabilities with refraction of light through translucent surfaces; ambient occlusion that adds depth to designs with more realistic shadowing; and a new grass shader.
Vectorworks Service Select members can now download the English-language version of the software. Shipping to other customers begins September 23 and will be followed by the software's release in nine other languages over the next few months.
Vectorworks was founded in 1985 and has been a part of The Nemetschek Group since its acquisition in 2000.
What do we think?
Despite what seems like the overwhelming dominance of Autodesk products, Vectorworks continues to do well around the globe. One recent survey in the UK rates Vectorworks as the top BIM tool there; Vectorworks says its UK sales were up 44% in 2014. Japan is also a hot market for Vectorworks.  
Marionette is a new graphical scripting language for exploring freeform shapes with assigned constraints. (Source: Vectorworks)