Daimler builds new processes after moving to Siemens PLM.
By Kathleen Maher
The enterprise CAD/PLM market is something of a zero-sum game. There are only so many auto manufacturers and aeronautics companies to divvy up. For that reason, every time a company announces plans to switch to a new tools provider, a shudder will sweep through the industry. Jobs will be created and careers will end.
Three years ago, Daimler announced plans to switch from Dassault's Catia to Siemens' NX. The announcement was a critically important one for Siemens PLM. At that time the group, which had been Unigraphics, was deep into its assimilation into the immense Siemens borg after its acquisition in 2007.

Siemens had added a layer of German management over the former Unigraphics management, and, while Siemens made it clear they intended for the original leadership team to stay in place and take over once the transition was complete, the Unigraphics crew would want to look good to their new bosses.
At the time, several car companies, including Daimler, were in the process of re-evaluating their CAD/CAM/PLM systems. The main competitors in the ring are PTC, Dassault, and Siemens PLM. When Daimler announced for Siemens, it was a huge win for Siemens in terms of revenue, prestige, and enormous cred for the former Unigraphics crew.
This year, Siemens and Daimler are now ready to talk about their new relationship and at this year's Siemens PLM analyst conference, Daimler's CIO of R&D, Siegmar Haasis, gave an update of his company's transition and explained the reasoning behind Daimler's choice. His talk was also a bit of a lesson in how to take a large company like Daimler that has five divisions and multiple brands including Mercedes-Benz, Smart, Freightliner, Western Star, BharatBenz, Fuso, Setra, and Thomas Built Buses through a significant process change.
Haasis compared it to an ill-advised walk he took with his children through the Grand Canyon. First and foremost, he says, don't lose your team. Meaning keep everyone onboard during a difficult transition. People don't like changing their tools, and apparently children don't necessarily like tough marches into the Grand Canyon.
Haasis told the audience that changing CAD systems was not his first choice, and in fact, in 2010, he was convinced that Daimler could not change CAD systems. However, he says, the company was required to make some tough choices. Daimler had built their designs and production system on Siemens Teamcenter for PLM and Dassault's Catia for design, but Dassault's newest V6 PLM products included a much tighter integration between the design and PLM products.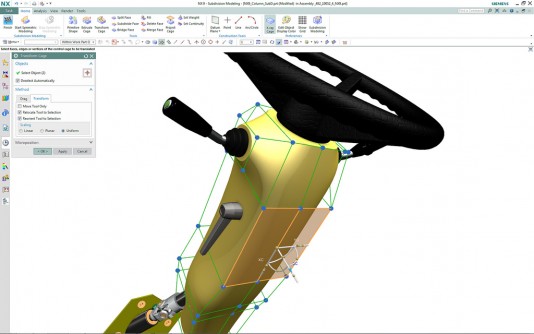 Dassault told Daimler if they wanted to continue to use Catia, they'd have switch to Dassault's Enovia V6 PLM database when they moved to V6. So a change was going to happen one way or the other, and once the company took a hard look at their options, they realized they would rather change their CAD system than their PLM system, and Daimler announced plans to transition from Dassault's Catia V5 to NX across all five divisions. As they were making their decision, Haasis credits the Siemens sales team and leadership for their help in devising a plan to make the change.
Smarter but more complex cars
This has been a really interesting period for the car industry. If you'll remember, the skies were pretty dark in 2009 as Daimler was considering its option and a big hole had opened up in the universe and sucked out everyone's money. When people don't have money, they don't buy cars.
Also, in these last five years, cars and the car business has been changing. Cars were getting smarter, and car manufacturers were grappling with the expansion of car-related IT and new approaches for sales and service. All the parts of the process are becoming connected at an unprecedented level. The cars are getting much, much more complicated, and right there is an important part of the problem for Daimler and other companies looking at a transition: as the product becomes more complex, the last thing you want to do is revamp your PLM system, the software for managing complexity.
Haasis said that as they're making the transition, Daimler is also concentrating on simplification. Daimler's end users in design and manufacture are demanding less overhead in the system. The company is also automating its factory.
The design process is moving toward MBE (model-based engineering), meaning that where possible, the information of record is contained in the 3D model and not in drawings. Siemens has introduced the Active Workspace, which is a browser-based working portal based on HTML5. With the transition to NX, Daimler has rolled out Active Workspace. Through the transition, Daimler has maintained both CAD systems, NX and Catia. The transition from Catia V5 to NX is projected to be complete by 2015. It is well on its way.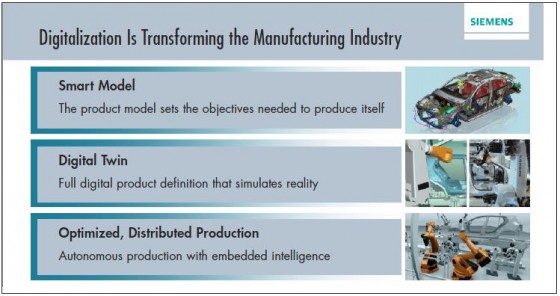 Siemens and manufacture
Siemens is unique among the CAD/PLM companies in that Siemens PLM, whose worth is in the billions, is a tiny portion of the company's business. Siemens PLM is a supplier to the other groups within the company, which have operations in factory automation, shipbuilding, energy, medical devices, etc.
Siemens doesn't even have to reveal the size of Siemens PLM; it's part of the Industry division, which is likely to chalk up about $11 billion in revenue in 2014. According to Siemens' interim report for 2014, Industry is flat compared to 2013, but the Siemens PLM executives say their group has grown both organically and through acquisition.
The Siemens PLM group and especially its CAD divisions are benefitting from the fundamental changes that are happening in designs and manufacture. The transitions of the 21st century are enabling better systems-based approaches. Advances in design processes are happening concurrently for software, auto frame, electrical systems, drives, etc., with the benefit of increased understanding of the entire process.
The changes Mercedes and the automotive industry are going through are reflected throughout the industry, where the links between design and production, which were always there conceptually, are now being forged more tightly and are happening more directly. As companies move to these new workflows, they will have reason to reconsider their tool chains—including their CAD tools.