Alienware still has its mojo with radical new design.
Alienware announced the return of the Area-51 performance gaming desktop, featuring a radical new design engineered to provide thermal efficiency and ease of use, while housing the newest line of Intel Core i7 six- and eight-core Haswell-E processors. The Area-51 offers single-, double-, triple-, and quad-AIB capabilities to provide enthusiast gaming performance at Ultra High Definition 4K and multi-monitor resolutions.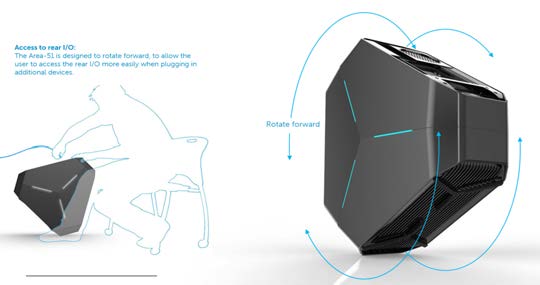 The system was demo'd in San Francisco, and it's hard to describe how impressive this new design really is. Frank Azor, Alienware's general manager, told us the system was designed in house, from the ground up. He said the company "questioned everything" and considered the ways tower desktops are actually used and what gamers really want.
The new Area-51 features a new triad chassis industrial design engineered for maximum thermal efficiency, while combining ease of access for upgrades, and it looks really different from any PC you've seen.
Alienware pretty much invented the aggressive, stylish, and unique look of a gaming PC with the original Area-51 in 1996. In 2002 Dell acquired the company, but unlike other acquisitions made in the PC industry, Dell left the Alienware group alone and it operated as an independent company. That philosophy has paid off for Dell and Alienware, and the company has been the leader in off-the-shelf gaming PCs.
Alienware's newest Area-51 flagship features an out-of-this-world chassis design and opts for the latest and greatest hardware options. The new system pays homage to the company's legacy of gaming machines, clearly fueled by the love of gaming. It's fair to say the original Alienware Area-51 set the industry standard for performance gaming systems, and this latest edition maintains that tradition.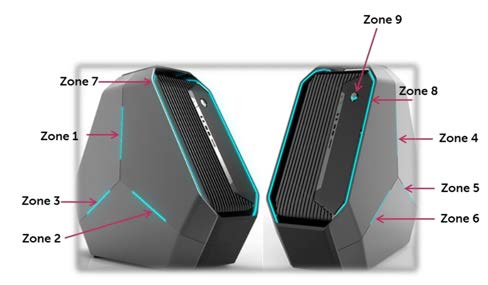 Codenamed Triad, Alienware's new industrial design for Area-51 is decidedly edgy, but the company insists it's practical as well as giving gamers access to both front and rear ports, and to the interior of the chassis. The front I/O panel is clearly visible from a sitting position, while the rear I/O panel can be easily reached by tilting the chassis.
The Triad design features a cooling system that pulls cool air in from the front and exhausts warm air diagonally away from the chassis and out the back. Alienware says their cooling design maximizes performance.
A gaming machine is pretty much required to incorporate the latest processing components, and the Area-51 is using Intel's newest Haswell-E processors, in six- and eight-core configurations providing up to 16 processing threads. The machines support up to 32 GB of 2133 DDR4 memory, and each system is factory-overclocked and liquid-cooled. The Area-51 can support up to three graphics AIBs, and Alienware is offering the latest boards from both AMD and Nvidia.
Alienware has also updated its software with a new version of its Alienware Command Center (now v. 4.0). Command Center version 4.0 now offers more control with utilities built in for overclocking, monitoring, and fine-tuning the performance of the Area-51. Controls include the ability to automatically overclock the system, while advanced users can adjust CPU clocks, voltages, memory timings, and more with remarkable precision. Last but not least, the software also enables personalized control of the nine programmable lighting zones on the chassis with 20 colors that can generate up to 512 trillion lighting combinations.
Wraparound immersion, 34-inch curved display
Alienware is offering the new Dell 34-inch curved display as a companion to the Area-51. The Dell UltraSharp 34-inch Monitor (U3415W) features an ultra-wide 21:9 screen at WQHD 3440×1440. The U3415W monitor has an adjustable stand, HDMI 2.0, MHL, DisplayPort and Mini DisplayPort connectivity, dual integrated 9-watt speakers, 60-Hz performance, and, when it's set up in multi-monitor configuration, a virtually borderless cockpit view across multiple screens can be realized, thanks to its ultra-thin bezels. Alienware promises a more immersive experience with the screen and better performance because the player is better able to see what's going around in the peripheral.
The unit has a 1.5kW power supply, measures 569 mm high (22.4 inches), 273 mm wide (10.7 inches), and 639 mm deep (25 inches) and weighs about 45 pounds. The Alienware Area-51 will begin shipping in October of this year and globally this holiday season. Prices haven't been revealed yet, but Azor tells us it will be competitive. The Dell UltraSharp 34-inch Monitor (U3415W) will be available to order in China in November and globally in December of this year.