Company betting many adopters of remote, virtualized computing will prefer the cloud.
By Alex Herrera
Building up an IT environment to support complex visual workloads was never easy, but at least it was straightforward. You bought a bunch of high-performance workstations, one for each desk and perhaps one for the road, supported by servers for backup and offloading compute jobs here and there. But no longer. Developments in GPUs, networks, and supporting software have created virtualized models from the more common, conventional VDI (virtual desktop infrastructure) data centers, to new and far-less-familiar options available in the cloud. Frame, a startup out of San Mateo, California, has been betting on the cloud, and the company has unveiled a simple, pay-as-you-go infrastructure to support workstation-caliber applications and workloads, all hosted in a cloud-based framework.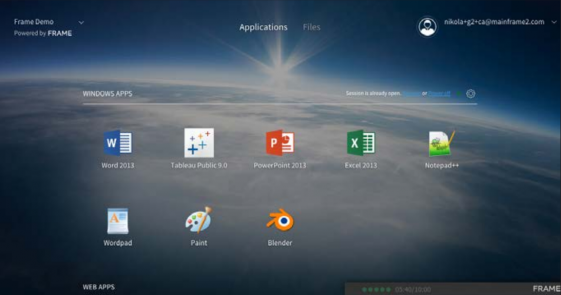 With the advent of server-side rendering, remote visualization, and virtualized GPUs, the old rules of what makes an effective visual compute infrastructure are out the window. Hosting graphics-intensive applications on remote virtualized servers is a reality. Following a trail blazed primarily by Nvidia, all of the key suppliers of datacenter and desktop hardware and software are on board with the concept of virtualized graphics workstations and high-performance desktops. CPU vendors Intel and AMD, hypervisor and middleware ISVs VMware, Microsoft, and Citrix, and system and IT suppliers Dell, HP, Lenovo, and Fujitsu have all anted-up for this emerging space with both new products and new support for existing products.
Many are heeding the call to push compute, storage, and rendering away from desks and to servers. But where should those servers be? In your own datacenter, supported by a range of supporting VDI platform software? Or in the cloud, allowing the capability to secure the best resources, shaped to individual users, when and where necessary, while leaving infrastructure management to a third-party provider? Promising the ability to "run any software in a browser," Frame is making an argument for the latter … and it's an argument well worth considering.
Perhaps the cloud's most appealing factor is its elasticity. Building out a datacenter, you are committing to a whole lot of up-front expenditures to purchase and develop a fixed level of computational resources. You can then provision those resources flexibly to serve different needs of the business. But you're always limited to those fixed resources—no more, no less. With the cloud, however, you pay nothing to start and pay only for the resources you need, then grow resources fast or slow as projects and personnel demand more. And just as important, you can easily contract those resources as demands from projects and personnel decline.
There's no down payment to come up with (Capex), and there's no delay in building the infrastructure. Deployment is obviously much faster, dropping from weeks and months to minutes, literally. Security and maintenance becomes someone else's job, and that's a job that cloud providers can, or at least should, do better than anyone else.
Think about it. Top-tier cloud providers like Amazon Web Services (AWS) and Microsoft Azure know their business is going to be measured first and foremost by security and uptime. They know if they screw that up, customers will quickly wave bye-bye. With that kind of motivation, it's reasonable to conclude that the public cloud should be at least as secure and reliable as your datacenter.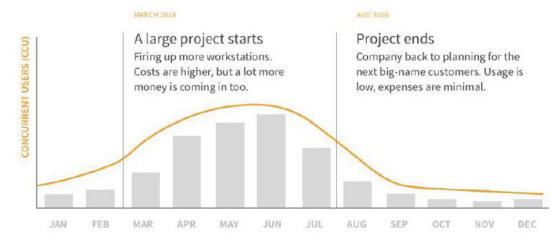 Enter Frame on the cloud
Once committed (or at least reasonably intrigued) by the thought of outsourcing desktops, computation, data —and IT headaches—to the cloud, customers will quickly come across a new breed of technology suppliers, including Frame. An up-and-coming outfit in San Mateo formerly called Mainframe2, Frame presents cloud-based virtual desktops for use by businesses and users of all kinds, but with a particular focus on users demanding a range of graphic and computational performance levels. CAD is one particular relevant space, which is precisely why the company announced its new top-level performance offering at this year's SolidWorks World conference in Dallas.
Frame's proposition is a straightforward one: bring the applications you're currently using, choose a cloud infrastructure, select an authorization manager, connect to files in the cloud, and deliver it all to your users. To accomplish this, Frame didn't go and reinvent the wheel. To the contrary, the company leverages much of the established and accepted infrastructure developed specifically for the cloud and packages it up in products focused on performance, flexibility, and simplicity.
Any Windows or Linux application will work, running on a virtual machine hosted in the cloud by premier providers like Amazon Web Services, Microsoft Azure, or Softlayer. The Frame ecosystem supports popular SSO (Single Sign-On) managers Okta and ADFS and cloud storage services— ones you're already probably using, in fact—like DropBox, Google Drive, and Box. Finally, that application—running in the cloud and reading/writing cloud data—is delivered to users through any HTML5-capable browser, with no special client software required.
The obvious challenge when asking workstation customers to swap out their traditional physical deskside machines for virtual ones, is that they will demand capabilities to match the physical ones on the market. At JPR, we segment the workstation market today loosely into four tiers: Entry Economy, Entry Premium (single socket), Mid-range (Economy/Dual-socket), and High End (Premium/Dual-socket). Similarly, Frame is now offering four virtual workstation models, or what the company refers to as machine instances: Air 4GB, Air 8GB, Pro 16GB and Pro 64GB.

Appropriate for knowledge and task workers running light loads, Frame's Air instances allocate one Xeon core and rely on CPU/software-rendered graphics. Stepping up to the Pro 16GB instance gets a user three more CPU cores and a GPU. And finally, at the SolidWorks show, the company launched a new instance, one it legitimately refers to as a graphics supercomputer in the cloud. The Pro 64GB delivers a whopping 16 cores and 4 GPUs, which would compare favorably to a conventional, maxed-out, high-end desktop high-end deskside workstation costing $15K or more. Depending on the plan, access to that Pro 64GB machine can run as low as $3.60 per hour. (Check out https://fra.me/products for a run-down on all of Frame's plan packages).
If those Pro instance definitions remind you of Nvidia's Grid vGPU profiles, that's no coincidence. Each of Frame's instances creates a virtual machine in the cloud (on AWS, for example), tapping the resources of a Grid GPU, as specified by the profile. As mentioned, the real beauty of cloud-based architectures is flexibility, and Frame's new business model makes the most of that flexibility. Frame's president and COO Jeff Brown reminded us that typical workflows vary. Customers can choose to do routine tasks that are not data-intensive using less expensive instances of virtual machines and then step up to more powerful instances when they need to call on more compute resources. That is a usage model that makes a lot of sense for modern work practices.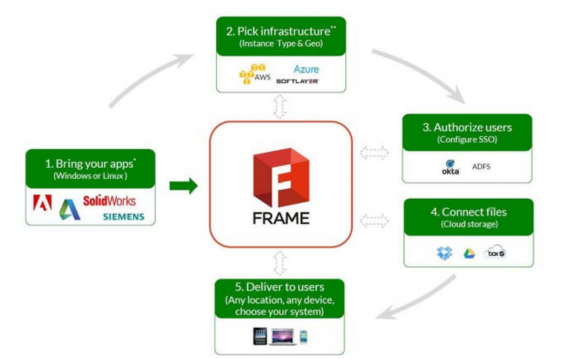 Any device, anywhere, anytime
A key selling point for Frame is that it's completely client platform agnostic. Any device that can support an HTML5 browser can run whatever application you would install in your Frame environment. That not only means no special client software required, it also opens the door to using pretty much any of the digital devices you are accustomed to using: PC notebooks, MacBooks, iPhones, and iPads, Android whatevers. Frame even showed a Chromebit (Chrome OS on a stick) running full-fledged Autodesk apps. Frame is letting interested customers try cloud-hosted Revit, delivered to the browser at www.cadinthecloud.com. The company is also letting trial users taste the entire experience with their own apps by getting started for free at www.fra.me.
What do we think?
Most of us probably think of VDI as a fast-growing market. And many of us would think it the logical candidate for IT professionals looking to transition their current workstation-class computing environments to a virtualized, centralized model. With modern VDI solutions supporting GPU-accelerated graphics, it certainly might be. But then again, it might not. Because today, the emergence of cloud-hosted graphical applications and desktops presents another compelling choice to consider.
Cloud-hosted virtual machines leverage the familiarity and technology fostered by VDI, but offer appealing advantages in simplicity, flexibility, and  perhaps even financially as well. In the context of Frame specifically, the company seems well positioned to serve that segment that would like to harness that model but would prefer avoiding much of the overhead of building, funding, and managing a private VDI implementation. It's quickly getting its ducks in a row, particularly in the CAD space. The company makes an elegant pitch that truly backs up the notion of working anywhere, anytime on any device, a big, oft-quoted reason for going to a virtualized, centralized computing model in the first place. At Autodesk University, Frame publicized the fact that Frame is the first certified cloud platform to run AutoCAD and Revit. The same goes for other big CAD ISVs, including Dassault Systémes, Siemens, and Ansys.
Let's don't go too far. We believe there will still be good reasons for some companies to choose more traditional VDI implementations. Large enterprises with the resources to build and support their own data centers have good reasons to do so. While the benefits of a cloud-based solution offer some undeniable appeal, that appeal will vary by user, budget, application, IT objective, and IT administrator. Ditto for GPU-accelerated VDI. Looking forward, both will present viable destinations for those sold on the concept of a centralized, virtualized computing model.
Alex Herrera is a senior analyst for Jon Peddie Research.