Jon Peddie Research says the PC Gaming hardware market was $29 billion in 2015.
Jon Peddie Research (JPR) issued a new market forecast today predicting the global game hardware market to pass $140 billion in 2019.
The global PC gaming hardware market receded slightly in 2015 but less than the overall PC market. JPR believes the market will resume growth in 2016. The forecast also notes recession and growth within the market is uneven. Notebooks bought for gaming have entered a challenging sales environment; PC gamers prepare are waiting for the next generation of mass market 4K/UHD computers.  
An overview of the forecast will be presented by JPR CEO Dr. Jon Peddie, and others at a press briefing on Wednesday, March 16th, at 8:30 AM at the SF Green Space at the EEFG building, 657 Mission Street, Suite 200. The briefing is in conjunction with the Game Developers Conference.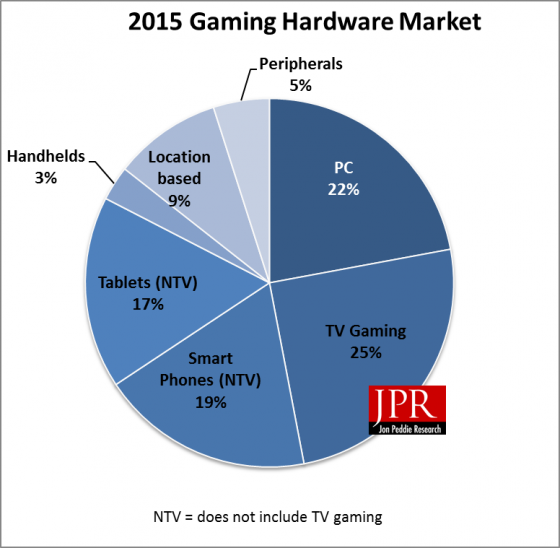 Ted Pollak, Senior Gaming Analyst at JPR notes that Playstation 4, Xbox One, and the Nintendo Wii-U will be the dominant platforms for hardcore console gamers. However, Android console offerings from Amazon, Google, and others are projected to grow at a much faster rate, and offer the casual to mid-core gamer an affordable way to play from the couch. Nvidia's Shield is also breaking new ground and can run Android games as a console or handheld. The device may also appeal to the hardcore with its ability to stream PC games.
More information: www.jonpeddie.com