The company is shutting down after failing to secure second round of funding.
AltspaceVR, a hang-out like Second Life, announced that it has run out of money and will be closing its doors. The company posted an open letter blog to announce the closing as of August 3, 7PM PDT.
The company said they had been working on a second round of funding but that it fell through. However, since the company's official start in 2014 it has raised $16 million in funding. To blow through that much money in 3 years raises eyebrows. The company has just 40 employees and 35,000 subscribers.
According to TechCrunch, the company's investors included Comcast Ventures, Dolby Family Ventures, Lux Capital, and Rothenberg Ventures. The company's recent funding was $10.3 million Series A round led by Raine Ventures.
AltspaceVR was built using the Unity Engine and A-Frame, an HTML-derived VR authoring technology for creating WebVR content. AltspaceVR offered developers an SDK and envisioned the space as a gathering space where people can hold virtual meetings, go to "live" concerts, see "movies," etc.
That happened, but according to the company, it wasn't enough to keep the interest of employees. The company will be gone after a final virtual part on August 3.
What's next
Oculus VR founder Palmer Luckey took to Reddit to ask the community if he should save AltspaceVR. He's still taking input but so far, the please save AltspaceVR responses are running at around 66%. Luckey admits that he might not actually have the ability to save AltspaceVR but the responses include pleas from AltspaceVR employees and family and Luckey might be able to pull together a coalition of investors. Or, he might just be enjoying another turn in the limelight.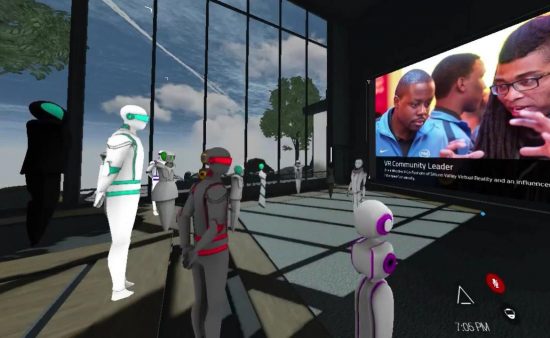 There are other up and coming VR hangouts. Facebook's VR hangout launched in December 2016, and has good infrastructure with revenues, a huge base of Facebook members, messaging, etc. So far it supports the Rift, and Gear VR. Linden Labs has created its next life as Sansar, a VR space. By the way, the company claims Second Life still has almost a million inhabitants. And, former Linden Labs exec Philip Rosedale has introduced High Fidelity, and true to its name he is striving for a realistic feel including eye contact, proper lip sync, etc.
And perhaps as one more promise of the interest in VR, Virtual Immersion Technologies based in Georgetown, Texas, is suing AltspaceVR for patent infringement. The has spewed a bunch of lawsuits all over the VR industry.
What do we think?
We'd love to champion the cause of AltspaceVR because 35,000 members is not shabby. There aren't that many regular users of Oculus Rift and Gear VR. However, there's another important point. The company blew through $16 million in cash over 3 years.
The company opted for very primitive graphics in return for interactivity, but the new competitors on the scene are doing a better job. Big spending, technology that's behind the curve; all that adds up to some pretty big problems for the company even before the investors pulled out.