New tools in version 4 improve the ability to make perception of quality a part of the design and engineering feedback loop. 
Icona Solutions today releases Aesthetica Version 4, the latest release of its high-end simulation software for perceived quality simulation and visualization for product design. It builds on earlier versions of the software to enable a continuous cross-functional focus on perceived quality driven from concept design and styling, continuing through engineering development and delivered in manufacturing.
Aesthetica uses product model data from leading MCAD products to present a virtual environment for perceived quality review by visualizing in real time the effects of geometric variation caused by manufacturing processes can have on the aesthetics of a vehicle or other new product. Icona says this new release is designed to make the process more proactive, so design teams have early insight into possible issues and correct them as soon as possible.
Among the new features introduced with aesthetica Version 4 are:
New 3D visualization system supports high dynamic range (HDR) environments, lighting and shadows.
New material library, with accurate car paint materials, including metallic and pearlescent finishes; glass with accurate reflection and refraction; bump-mapped materials with natural and technical grains; automatic depth-sorted object transparency; local and global/environment shadows; and an on-idle rendering mode to progressively improve anti-aliasing and global shadow quality.
New geometry-based measurement system:

Enables gap and flush to be defined relative to the CAD geometry within the section;
Point and point-to-point measurements;
Relative difference measurements, used to assess taper and parallelism;
Closest point, to measure the minimum distance between two geometric objects (edges, surfaces or parts).
New user interface, with a ribbon and context-sensitive menu system, replaces the older-style menus and tool bars in previous versions.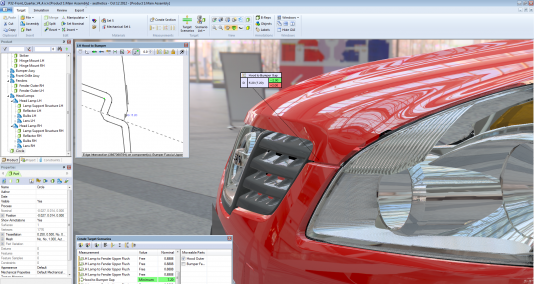 Icona also says Version 4 of aesthetica is their "precursor to the introduction of aesthetica for concept design." This will focus on the early concept design and styling phases of the design-to-manufacture process. For example, Aesthetica's Target Study functions will allow worst-case combinations of proposed variation targets for all gap and flush conditions to quickly be generated, demonstrated visually and confirmed or refined accordingly. More is planned for the next release.
Icona claims model and data preparation time in version 4 has been reduced by more than 50% compared with the previous version.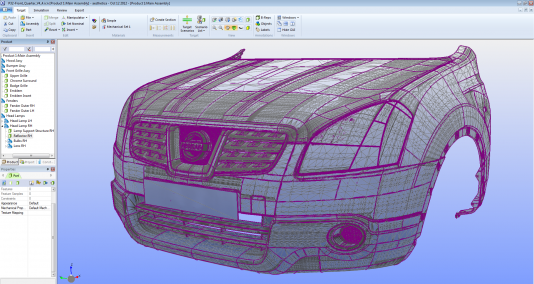 Our take
Aesthetica is already popular in automotive design; it counts Nissan, GM/Opel, Porsche, Bentley Motors, Chrysler/Fiat, and Great Wall Motor Company among its users. The company is working to move beyond being a point solution (checking designs for aesthetic quality) to managing aesthetic quality as a PLM-like process. Icona Solutions is a member of the third-party developer networks at Dassault Systemes, Siemens PLM, and Autodesk, which means they have both the intent and capability to play nice. Icona is small enough to provide great service (which, I have been told by users, they do), yet delivers a world-class solution that is moving beyond its automotive niche.
Related
Fiat selects Aesthetica to improve perceived quality in auto design
Icona Solutions secures $550,000 investment to expand Aesthetica support