A new partnership with Maxon opens the door to mainstream creative use of 3D models. 
By Kathleen Maher
Adobe had a whole lineup of new products and strategies to an­nounce at NAB 2013 including the rollout of Adobe Anywhere. The company gave previews of new features coming in its next round of Creative Suite products, which may or may not be named CS 7. (Adobe is re­serving the right to come up with a new name.) The company's news also in­cluded a ration of gloating as the com­pany says sales of video tools have soared at the expense of competitors Apple and Avid.
Maxon and Adobe team up
The hottest thing at NAB this year is 3D, or at least a case could be made on that front. Adobe and Maxon have en­joyed a close relation­ship for several years now as the two compa­nies have enabled shar­ing content from Cin­ema 4D to Adobe After Effects and Photoshop. For the upcoming re­lease of Creative Suite, Adobe has incorporated the Cinema 4D engine in After Effects, enabling seamless exchange of 3D models for 3D effects. Now it's possible to go back and forth between the two products. Users will get a "light" version of Cinema 4D with CS next, and if they have the full version of Cin­ema 4D, they can take advantage of that pro­gram's more power­ful features. For many CS users, the inclusion of Cinema 4D will be an introduction to 3D modeling, which opens up new possibilities for work in a broad range of industries including game develop­ment, publishing, and video content creation.
The example the company is show­ing to illustrate the capabilities is of a skateboard­er catching a little air and the skateboard spinning to­ward the cam­era to reveal more detail in­cluding a logo, just as the cam­era gracefully pans back to the skateboarder to close the scene. Edi­tors can work between Cinema4D and Adobe After Effects to work directly with the 3D model and place it correctly lit and in perspective in After Effects.
Following the Adobe announcement, Lightwave said they too can get models into After Effects, Luxology followed suit, and Autodesk sniffed that they could do such a thing via FBX in Max and Maya, but they don't really approve since it's a "closed" system. In the long run, Adobe's relationship with Maxon demonstrates its commitment to mak­ing 3D an integral element in its suite of products, but so far they are doing it by collaborating with another com­pany rather than developing their own product. Adobe product manager Steve Forde says he's a strong believer that companies should stick to what they do best. Thus it makes sense for Adobe to work with Maxon rather than build its own 3D modeling.
There was plenty of speculation at NAB about Adobe extending 3D inte­gration to other companies down the road, or maybe acquiring a company, oh say, like Maxon. It probably depends on what customers do with the capabilities they're getting in this new version.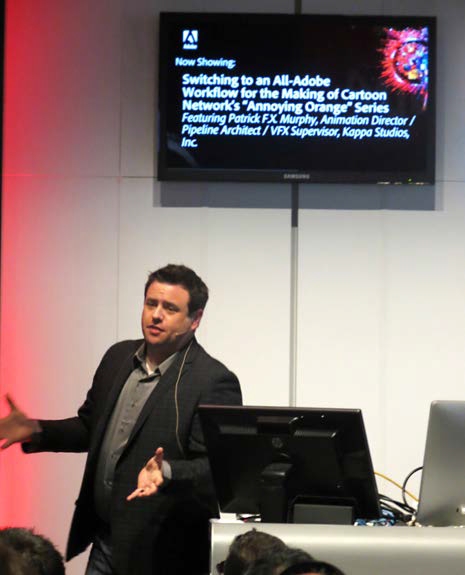 Adobe Anywhere
The Adobe Cloud is one avenue for the company to enable its users to share content they're working on, but with the new features in Adobe's next release, the company plans to facilitate a much deeper level of collaboration within a network. To that end, the company has announced Adobe Anywhere. This latest product from Adobe will enable users to host Premiere, After Effects, and Pre­lude on their network allowing people to work with media files directly. They don't have to transfer files, duplicate media, or work with proxies. By work­ing directly with the content, people can preserve the integrity of the media and stay in sync.
Adobe says the new Anywhere prod­uct can operate across standard net­works and requires no propriety hard­ware. The collaborative features are em­bedded in coming versions of Premiere Pro, Prelude, and After Effects. Adobe hopes to be solving at least one part of the asset management nightmare expe­rienced by companies as they adjust to digital workflows.
Prelude and Story
Adobe is doing quite a bit to address the challenges groups of people are en­countering as they work together on projects—large and small. For instance, we were told that just before the transi­tion to digital cameras, people had be­come accustomed to logging in every shot with metadata, but that as content creation workflows shifted to digital, people got lazy because the content was automatically logged in as digital files. As a result, there is a log of files but they have names that are not meaningful, and there is still the problem of adding metadata—people don't do it.
Adobe is updating Prelude and Story to improve workflow. When content is brought in using Prelude, it also brings associated metadata from the camera, and users can see what they've got with scrubbable thumbnails. Prelude comple­ments Adobe Story, which is an evolv­ing product within the Creative Suite. Story lets users link a script to content, so as the editing progresses, a transcript travels along. Adobe has continued to work on the robustness of Story to increase its value in production man­agement as well as in the creation of stories and editing. Story has the ability to match scripts to clips using Speech to Text analysis. With every iteration, Story becomes as useful as a production management tool as it is as an author­ing tool.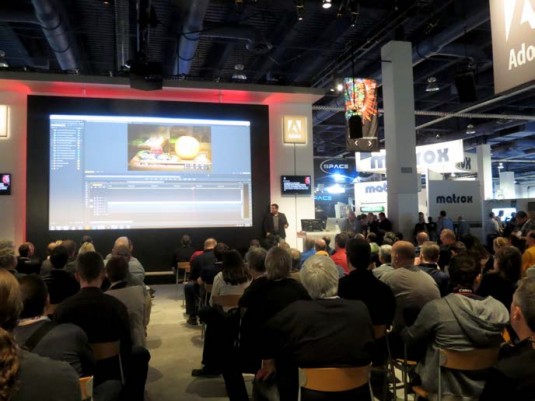 And more
SpeedGrade, one of Adobe's new­est additions to the Creative Suite, has been updated to fit into the Adobe CS family with an interface more similar to Adobe's video products. The com­pany promises it will be easy to use. With SpeedGrade, Adobe's customers get a more advanced level of color cor­rection than was possible using tools in Premiere Pro.
In the spirit of partnerships that characterizes this coming release of Adobe's Creative Suite tools, Aja has an­nounced support for Premiere Pro and SpeedGrade in their Io, T-Tap, and Kona family of tools for Mac and Windows customers. It wasn't long ago, at all, that Aja devoted much of its collaborative work to Apple's Final Cut Pro. This year there was nary a whisper about Apple's products, and this was true throughout NAB 2013. Aja promises new device driver and application plug-in software from Aja as a free download as soon as Adobe's software becomes available.
Aja also announced support for Apple ProRes codec capture in Adobe Premiere Pro for Mac, Avid DNxH codec capture in Adobe Premiere Pro on Mac and Windows, and integrat­ed support for Adobe's export to tape interface.
Oh yeah, Premiere
There are several interface updates and improvements in Premiere Pro. Adobe has made the timeline easier to work with, and it has improved the audio tools including an audio meter, but the Premiere update making the news is added support for OpenCL and GPU acceleration for AMD GPUs. Adobe director for video products Bill Roberts says one of the most significant improvements to Adobe's video prod­uct line over all has been the develop­ment of the Mercury Engine, which takes advantage of GPUs to speed video performance in a variety of areas. Rob­erts believes the Mercury Engine is the edge that has pushed Adobe ahead of competitors Apple and Avid. Until now, the Mercury Engine was primarily ex­ploiting the Nvidia processors because Adobe was using CUDA—pretty much because it had to as OpenCL was get­ting dusted off and cleaned up for prime time. Adobe had done some basic shim­ming, using OpenCL to extend some benefits of Mercury Engine accelera­tion to the Apple platform. For the next version of the Creative Suite products, Adobe says it will exploit OpenCL for the Mercury Engine.
With the arrival of CS not-necessarily-7, Adobe will broaden its support for OpenCL. AMD says Adobe's use of OpenCL will support AMD's consumer A-series processors and also the FirePro APUs. In effect, Adobe is democratizing GPU support in its video products. AMD is ecstatic about Adobe's support for OpenCL and it should be. There are several signs that OpenCL is now ready to change the game for GPU-independent hardware acceleration, but support from Adobe is a major milestone.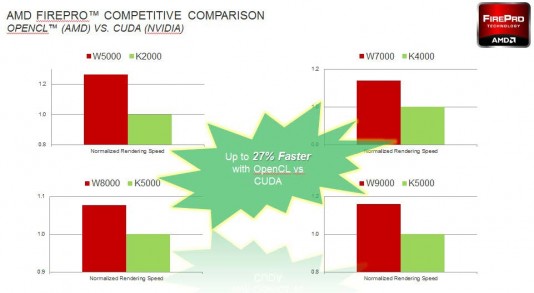 Adobe Primetime brings TV content to connected screens
There are days when one just doesn't want to check the news on Adobe be­cause there's likely to be yet another important announcement one should probably write about. At NAB, the company also announced Primetime, which is an expansion of the company's marketing division that marries Adobe's publishing tools with customer tracking products.
Primetime is another take on pub­lishing—it's about publishing video to TVs and devices with DRM and adver­tising and analytics. Adobe says it can help content providers better monetize video and more efficiently publish it with the help of ecosystem partners. The company describes Primetime as a scal­able offering of components that cus­tomers can deploy individually, or they can deploy a system to handle the entire workflow.
At NAB, the company announced several key customers including Com­cast Cable, which has adopted Adobe Primetime's components across its Xfinity Web services. Comcast is using Adobe's tools to sell IP-delivered video to their customers. To do this, Comcast has deployed Adobe's player, DRM, ad insertion, ad serving, and analytics. NBC Sports Group has also signed on. It is offering live sporting events in­cluding Major League Soccer, National Hockey League, and Golf Channel con­tent. Consumers will be able to watch the content live and on demand.
New friends
Adobe says it is partnering with sev­eral key providers for encoders, cloud services, and CDNs (content delivery networks) to enable links to connected screens. Adobe has announced deals with Akamai, Amazon Web Services, Cisco Systems, Elemental Technologies, Envivio, Harmonic, iSTreamPlanet, RGB Networks, the Platform, and others.
Adobe is taking advantage of its product use in content creation to build end-to-end services. The company start­ed out with its message of "one format, every screen" built around Flash. As the technology has matured, Adobe has built its product line around HLS for video broadcast. It is building HLS into its Flash Player for desktop and into its content creation tools. As a result, says Adobe, "TV content owners and dis­tributors will be able to efficiently reach more of their audiences by deploying one consistent player." Handy, isn't it? Adobe Primetime will also continue to support HDS streaming.
Adobe's partners are already using Primetime. The player is available for Windows, Mac OS, Android, and iOS and will support connected TVs and gaming platforms such as Roku and Xbox in 2013. Adobe says they will also be adding more advanced analytics and capabilities and support for HTML5 within mobile browser environments.