Creative Suite will be discontinued as a distribution method for Adobe software.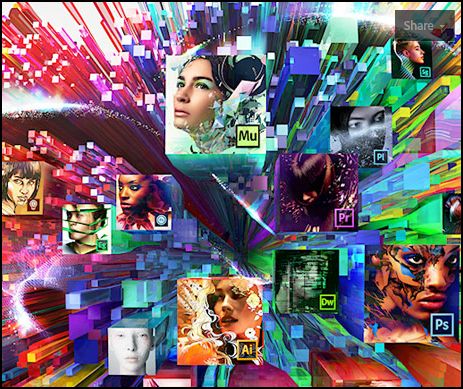 Adobe today announced it will soon end distribution of Creative Suite as a physically distributed product with perpetual licensing. Instead, Adobe is going all-in with Creative Cloud, a monthly or annual subscription service to the same products for creative professionals.
Adobe introduced Creative Cloud, a web-based alternative to Creative Suite, about a year ago. It is a subscription service that provides all the same tools as Creative Suite. Adobe announced the change today at its Adobe Max conference for users in Los Angeles. Since the initial launch, Creative Cloud has attracted more than a half million paying customers and 2 million users of its free version of the service.
Developing Creative Suite, Creative Cloud, and standalone versions of its flagship products meant three development pipelines. Adobe can update Creative Cloud at any time, but the Creative Suite and standalone versions are only updated for new releases.  In announcing the change, Adobe senior vice president David Wadhwani says he had no doubt standardizing on Creative Cloud is the right direction for the company.
While Creative Suite 6 products will continue to be supported and available for purchase, the company says it has no plans for future releases of Creative Suite or other CS products. This update to Creative Cloud includes the next generation of Adobe desktop applications — including Photoshop CC, InDesign CC, Illustrator CC, Dreamweaver CC and Premiere Pro CC.
Today the web page that has normally been Adobe's home page for Creative Suite promotes a cross-grade to Creative Cloud at a 40% discount.
The timing is significant not only because of Adobe's big user conference today, but because the company is doing a webcast with Wall Street analysts this afternoon; the transition to all-cloud will surely be a major topic of discussion.
Our take
You seize the future, or the future seizes you. Cloud-based software services are too convenient for vendors to ignore, as long as they make them equally convenient for users. Adobe seems to have found the right balance in Creative Cloud, and is ready to make the cloud their only software distribution channel.