Straightening to the background horizon even when it is not visible is one of many new features coming in Lightroom 5.
Adobe made a lot of product announcements at NAB recently, but they didn't exactly announce Lightroom. Instead, they announced the Beta of the next version of their digital photography toolkit.  The new release coming out later this year im­proves recently introduced video fea­tures and adds more powerful editing features.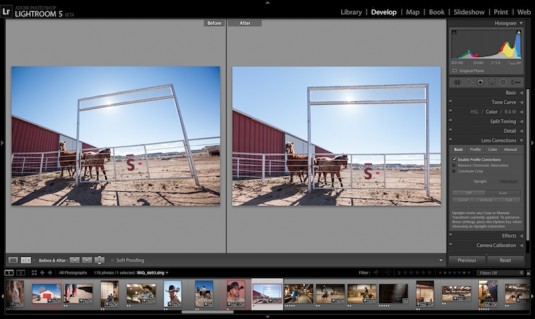 Some of the strongest new tools in Adobe Lightroom 5 come in for those with a slightly skewed point of view. The new Upright tools take off where straightening leaves off. It analyzes images to level horizons and can square buildings to correct a key­stone effect. It can straighten skewed images even when the horizon is not shown, and all with one button. This reader almost cried.
Adobe has been spending time improving its Radial Gradient tool and also the ability to create blurred back­ground effects to change the emphasis of a photo. Lightroom already allows users to keep their photos offline on an exter­nal disc—this strategy is pretty much a given for people who have flash drives and need all the space they can get on their hard drive, but that means moving the photos you need to the computer when you're going to travel or travel­ing with an external drive. This latest version of Lightroom enables people to work on the smaller images maintained by the Lightroom viewer without the original raw film. Changes will be ap­plied to the full-size file back at home when the library and Lightroom are back together again.
The video feature last year has been strengthened to allow users to create video slideshows with still images, video, and music.
Lightroom 4 is available for $150, or as a $50 subscription. However, users can also get Lightroom if they opt for the full all-you-can-use CS subscription. Adobe has extended the $29.95 sub­scription to new users, and the rate goes up to $49.95 after a year.