16th Annual Wohlers Report shows 26% growth rate in last 23 years.
The additive manufacturing (AM) and 3D printing industry grew by 24% in 2010, says the latest edition of the Wohlers Report, an annual guide to the industry.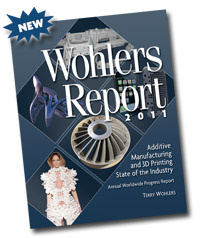 According to Wohlers Report 2011, the AM industry rebounded strongly in 2010 from the global economic recession. The compound annual growth rate (CAGR) of revenues produced by all AM products and services in 2010 was 24.1%. In 2009, the industry declined by 9.7%. The CAGR for the industry's 23-year history is a robust 26.2%.
Total industry revenue in 2010 was $1.325 billion, up from $1.068 billion the year before. To put this in perspective, total AM and 3D printing industry revenue falls somewhere between the one-year income of PTC and Dassault Systems, and considerably less than one year of revenue at Autodesk.
Wohlers Report 2011 is the 16th annual edition reporting on the global additive manufacturing (AM) and 3D printing. industry. This 270-page report is considered an authoritative resource throughout the industry and beyond.
Additive manufacturing is the process of joining materials to make objects from 3D model data, usually layer upon layer, as opposed to subtractive manufacturing methodologies. Additive manufacturing is used to build physical models, prototypes, patterns, tooling components, and production parts in plastic, metal, and composite materials.
The new report documents the latest developments in additive manufacturing technologies, including explosive growth of low-cost personal systems that support the do-it-yourself Maker movement. The Wohlers Report 2011 also discusses other trends in the industry, such as the rapid development of metal materials and the increasing use of these technologies for the production of end-use products.
The report includes new sections on intellectual property and product liability implications, and expanded information on end-use part production. It also includes industry growth estimates and forecasts, new developments and business opportunities, emerging applications, research and development, and where the industry is headed in the future. The study was created with support from 58 co-authors, 70 service providers, 32 system manufacturers, and many others worldwide. To support the review and analysis, the report includes 43 charts and graphs, 60 tables, and 176 photographs and illustrations.
The report is priced at US$495 worldwide and is available in PDF form. The report's table of contents, as well as additional information on the market and industry, are available at wohlersassociates.com.