Loyola Marymount students now create animations in a professional rendering workflow; their creative output has doubled.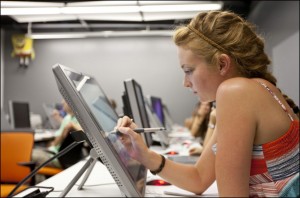 The mantra at any university preparing students for professional careers is "experience, experience, experience." In film/TV programs, universities are realizing they must provide lab experiences that reflect professional standards. Loyola Marymount University (Los Angeles) recently realized their digital production lab in the School of Film and Television lacked a modern workflow pipeline to manage visual effects projects. The lab was filled with isolated desktops that limited students to rendering on single workstations. This created a system of long render times that tied up computers and prevented students from accessing their project work.
"We needed to get the students back on track," said Mark Allen, LMU's Animation Technical Services Engineer. "We needed something that was powerful for the students and easy-to-maintain for the technical team." LMU decided to standardize on Qube from PipelineFX, an increasingly popular tool in visual effects studios.
"Qube was a turnkey fix that fit right in and cleaned everything up," Allan says. "Our rendering capabilities improved almost immediately."
Allan says LMU students now approach their work in a much more professional manner. Before installing the Qube pipeline, students would do few animation test renders, leaving no time for corrections if their project needed significant changes at the end of the term. With Qube in place, students achieved faster iterations through distributed rendering. They could get to the final product and make any necessary changes much faster. Students were improving and showing off more creative output at a much quicker rate, and it also made them a lot more relevant to the outside world.
Behind the scenes, LMU was finding Qube's programmable functionality to be equally transforming. To fix the gridlock that students were accustomed to, Allan set up a feature to increase rendering throughput called aggressive pre-emption. It enabled lab workstations to be used for rendering any time a student wasn't logged in to the system. If a student needed to log on, a script would run that killed frames rendering on that machine immediately. The disrupted frame would then begin rendering on another machine automatically, and the student was free to use the computer for other projects. This effectively doubled the lab's rendering output.