A monitor size for every budget.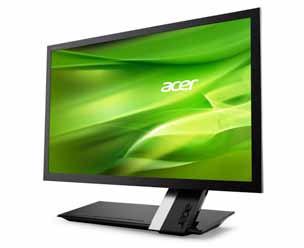 Acer America has five new slim LED backlit displays; 20-, 23- or 27-inches with adjustable tilt bases. Claiming a 100,000,000:1 contrast ratio, Acer says they have really deep blacks.
Included in all the new models, the Acer eColor Management tool lets users optimize image performance under different viewing scenarios at the touch of a button.
Acer says their S Series of white LED technology monitors consumes up to 68% less power than standard LCD displays. The Acer S235HL 23″ widescreen is just over a half-inch thick with a glossy black bezel, silver stand with ice-blue LED buttons; all the I/O ports are located on the base. It has 1920 x 1080 resolution with 5ms response time one VGA and two HDMI ports with High-Bandwidth Digital Content Protection (HDCP) that supports 1080p HD and allows for viewing of digital movies and copy-protected media. The Acer S235HL LCD monitor will be available in April at online retailers and has an MSRP of $219.
Acer is also offering a 20″ version (S200HL) with 1600 x 900 resolution and dual inputs (VGA and DVI) for $139. There are two 23″ versions, the Acer S230HL Abd and Abii with 1920 x 1080 resolution. The S230HL Abd offers two video inputs; one VGA and one DVI (with HDCP). The S230HL Abii has three input ports; one VGA and two HDMI (with HDCP) for viewing 1080p full HD graphics. The S230HL Abd is $169, and the S230HL Abii is $189. The S271HL—27″with 1920 x 1080 resolution has DVI and HDMI ports with HDCP and sells for $329.