Artists now have four times more pixels at their disposal than with iPad 2.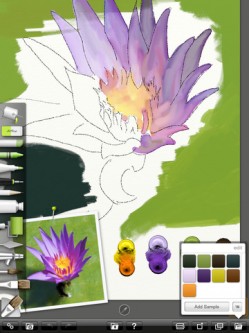 Ambient Design is out the gate early with a new version of its iPad art app that takes advantage of Retina Display. Version 1.4 of ArtRage for iPad, now available at iTunes, has been optimized to take full advantage of the new iPad's 2048×1536 display—higher than an HD TV.
The upgraded iPad provides ArtRage with four times as many pixels as the previous iPad. To make all those new pixels accessible to artists, ArtRage for iPad offers more paint tools, unlimited layers, the largest canvas of any painting app, advanced digital camera support, and new support for Spanish and Italian, adding to the five other languages already supported (English, Japanese, Korean, French, and German).
Images created in ArtRage for iPad may be shared, via iTunes, with the desktop ArtRage Studio Pro 3.5, available on Mac and Windows.
Ambient Design says a variety of tweaks to existing tools and features are also included in this update. The product is featured in Apple's first TV for the new iPad, embedded at the end of this article. The part with ArtRage starts 18 seconds in.