The new ProJet 1500 is targeted as an office and education 3D printer.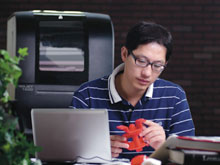 3D Systems is now shipping a new personal 3D printer that creates durable and smooth color plastic parts. Priced at $14,500, the ProJet 1500 is targeted at offices and schools.
3D Systems says the ProJet 1500 is up to five times faster than any other printer in its class, depending on the item being printed. It emits no odor or dust during operation, making it acceptable in offices and classrooms. It fits on a desktop.
The material used for the ProJet 1500 is called VisiJet FTI Material. It is available in Ivory, Red, Grey, Blue, Black, and Zoom. The VisiJet FTI-Zoom material builds up to 40% faster than the other materials when building in high speed mode. Parts printed on the ProJet 1500 are said to be "tough and suitable for a variety of functional testing and snap-fit applications."