Cash holdings are way up, and net income grew six-fold.
3D Systems (NYSE: DDD) announced today revenue climbed 57% in the second quarter, compared to the same period a year ago. Total revenue for the quarter ending June 30, 2011 was $55.1 million, compared with $35.1 million in 2Q10.
Net income for the quarter was $13.4 million, up from $2.7 million a year earlier.
Revenue from products was $32.6 million, up from $24.6 in 2Q10; revenue from services was $22.5 million, up from $10.5 million year-over-year.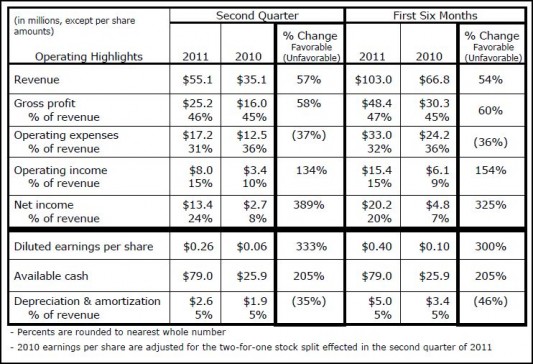 The company says 3D printer units sold tripled year-over-year and accounted for a $5.5 million revenue increase. During the second quarter 3D Systems recruited 27 new resellers to its global distribution network. Print materials grew by $2.4 million on strong user demand and an expanded installed base. Services, including custom parts, was up $12 million compared to 2Q10. Healthcare solutions—a market in which 3D Systems does especially well—grew 32% over the prior year.
Cash holding took a huge jump in the last six month, from $37.3 million on December 31, 2010 to $79 million on June 30, 2011. During the last six months 3D Systems completed a secondary common stock offering, moved from NASDAQ to the NYSE, and make a series of small but notable acquisitions. (For more information, see "3D Systems acquires two boutique 3D printing content companies," "Direct print: 3D Systems acquires Alibre," and "3D Systems buys Sycode and Print3D.com for the Deelip mojo.")
Cash per share on June 30, 2011 was $1.58, down from $2.82 three months ago, largely due to the additional shares of stock.