The pioneer in 3D printing will do a two-for-one stock split later this month.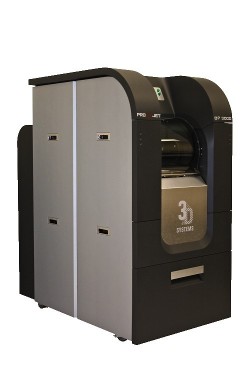 3D Systems Corporation (NASDAQ: TDSC) saw its revenue for the first quarter rise by 51% from a year earlier, in result announced today. The surge in revenue led to a 62% increase in gross profit, also compared to the first quarter of 2010, which ended March 31, 2010.
3D Systems' directors used the occasion to declare a two-for-one split of the company's common stock. On May 18, 2011, each stockholder of record at the close of business on May 9, 2011 will receive one additional share for every outstanding share held on the record date. Trading is expected to begin on a split-adjusted basis on May 19, 2011. The company believes that the stock split could increase trading liquidity and attract a broader investor base.
Net income was $6.8 million, up from $2.0 million a year earlier.
Revenue growth came in all categories. 3D printers accounted for a $4.8 million increase, print materials grew by $2.0 million and services, including custom parts, increased by $9.6 million compared to the first quarter of 2010. Organic growth accounted for 23% of the total revenue increase.
Product revenue in the quarter was $29.1 million; services revenue was $18.7 million.
The company ended the first quarter of 2011 with $70.8 million of available cash, for a cash per share figure of $2.82. During the quarter the company used $22.7 million to fund strategic investing activities and completed a common stock offering with net proceeds of $54.0 million.