Two new mobiles and a rackable come with optional Intel Core i7 Extreme Edition CPUs
Dell has announced three new models in their Precision workstation line, two mobile units and a rackable. The three models will start shipping in the next few days.
Power and mobility
The new Dell Precision M4600 and M6600 mobile workstations both feature second-generation Intel Core processors and 1600MHz system memory options.
The redesigned chassis on both models is made from aluminum and magnesium alloy, and have been tested using the MIL-STD 810G standard for extreme temperatures, vibration, dust, altitude and shock.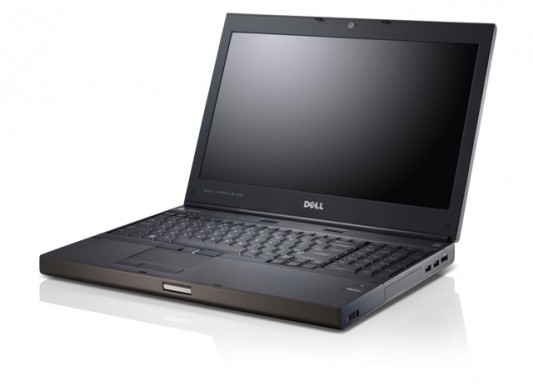 The Precision M4600 is 15.6" with a keyboard that includes a number pad. It sports a maximum memory capacity of 32GB, uses RAID 0/1 data production, and comes with various hard drive options up to 750GB.
The Precision M6600 is 17.3" and offers the option of a second HDD or 128GB solid State drive mini-card with RAID 5 support. Options to come later include the Nvidia Quadro 5010M mobile professional graphics card carrying up to 4GB of graphics memory.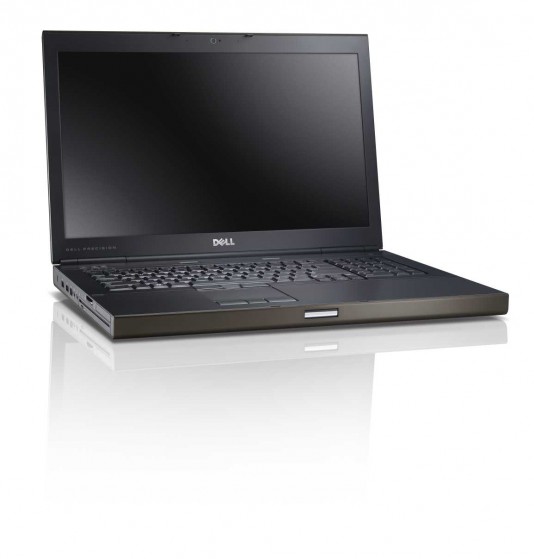 Both models come with certification for various products from Autodesk, Dassault Systemes, PTC, Siemens PLM Software and others.
Other features or options common to both models include:
Support for a wide range of AMD FirePro Mobility Professional Graphics or NVIDIA Quadro Professional Graphics options;
Optional four-finger multi-touch display for drawing, writing, editing and zooming onscreen with fingers or stylus and touch-enabled engineering software applications;
Optional 100% color correct PremierColor IPS RGB LED display with PremierColor calibration software
DDR3 memory with four DIMM slots for up to 32GB of 1333MHz memory or up to 16GB of 1600MHz memory
Five USB ports including two USB 3.0, two USB 2.0 and one combination USB 2.O; eSATA and three video out options including  DisplayPort, VGA and HDMI
Optional NVIDIA Optimum technology that intelligently detects graphics performance needed to help extend battery life;
Optional AMD Eyefinity technology that supports up to five simultaneous displays
Choice of second-generation Intel Core processors up to Core i7 Extreme Edition.
Dual socket rack workstation
Dell has enhanced its rack workstation line with the introduction of the Precision R5500, offering the power of its desktop workstations in a dual-socket rack form factor. By locating the R5500 in a secure data center or other centralized location, users can remove heat, noise and bulk for a more favorable workspace and boost productivity for global and rotating workforces by providing remote 1:1 access to the workstation from virtually anywhere.

Dell says the R5500 is purpose-engineered for professionals who require compute intensive applications and extreme performance with remote capability. It offers the latest Intel Xeon processors with memory capacity of up to 192GB and dual-wide GPU slots that scale up to 450 watts. In addition, the R5500 offers options for up to five industry standard full-height and full-length PCIe x16 slots including support for a full range of dual high-end graphics and general purpose (GP) GPU compute solutions from NVIDIA including the newest NVIDIA Quadro and NVIDIA Tesla solutions.
Users can connect to the R5500 via optional PC-over-IP hardware-based compression technology from Teradici or remotely connect via a standard notebook or desktop with optional VMware View software.

The rack workstation also offers a variety of certifications from leading engineering software vendors.
Ready for new challenges
The proliferation of data, rapid technological advances and more dispersed and global workforces have brought new challenges to organizations," said Jon Peddie, President of Jon Peddie Research. "These organizations must be equipped with solutions that provide high performance, manageability and security to support their end users in all types of working environments. Dell continues to deliver on providing best in class workstation solutions and the end-to-end capabilities needed to address the full scope of a company's computing needs."
Pricing and Availability
The U.S. starting price for the Dell Precision M4600 is $1,678; $2,158 for the M6600. Both will be available globally on May 10. The Dell Precision R5500 starts at $2,551 and will be available in the US and EMEA on May 3 and in Asia-Pacific Japan region on May 10.